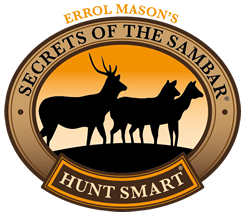 Crooked Horn Outfitters
Bino System
---
The original and still the best.
A Hunt Smart® way to carry your binoculars
Crooked Outfitters Bino System
(Includes Free Delivery within Australia)
Includes Free Spudz ultimate lens cleaning cloth
---
I wore the Crooked Horn Outfitters bino-system for 5 years whilst guiding. When carrying binoculars day after day this harness completely eliminated neck fatigue and headaches which I sometimes experienced after a long day with binos hanging from my neck.
Fatigue is eliminated because this design uses your shoulders instead of your neck to support your binoculars. It also keeps them up on your chest where they should be - unlike some other brands that carry them against your stomach where they can bang against your rifle and equipment on your daypack waist strap.
Features of the Crooked Horn Outfitters bino system:
fully adjustable so one size fits all;
completely eliminates neck fatigue;
tensioned correctly the elasticised straps eliminate binocular hand shake;
prevents binoculars from bouncing around whilst riding trail bikes and horses and when climbing over fallen trees, fences and other obstacles;
ideal for bow hunters as it eliminates binos or range finder interfering with your bow string;
works for all binoculars regardless of size - range finders and cameras;
additional rings (supplied) for attaching to each item and the QD clips enable you to quickly change the harness from one optic to another;
leather patch is embossed with Errol Mason's Secrets of the Sambar® Hunt Smart® logo which features a mature sambar stag following 2 hinds;
Proudly Made in the USA. Fully Guaranteed.
Purchase Options
*Postage within Australia and GST are included in the indicated price. If you require postage to a different country please contact us and we will quote you postage.
ONLINE - You can pay with Credit Card online. Click the add to cart button to pay via credit card (Mastercard or VISA).
OFFLINE - You can pay via Direct Deposit (bank transfer) or send a Cheque or Australia Post Money Order. Note: Direct Deposit is our preferred payment method and helps us to keep costs down. Click the add to cart button and select 'Offline Payment' at the checkout and you will be able to choose 'Direct Deposit' or 'Cheque/Money Order'.
NON-SPECIFIED AMOUNT PAYMENTS - You can make a payment for a non-specified amount here - Click to make a non-specified amount payment