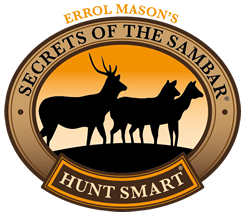 Wind Gauge
Wind Indicator
---
A Hunt Smart® Way to Check Wind Direction
---
If Sambar get one whiff of your scent THEY'RE GONE!!!
So you must know precisely where your scent is travelling to.
That's why I use a "Wind Gauge" - a small plastic bottle with a flip up dispenser filled with a fine oxide powder which when shaken, produces a "puff of smoke". The smoke carries incredibly well in the faintest thermal so you know precisley where your scent is travelling to. The fine oxide drifts much better than any powder I have tried. The removable screw cap enables the "Wind Gauge" to be easily refilled with builders powder.
Errol Mason
Purchase Options
*Postage within Australia and GST are included in the indicated price. If you require postage to a different country please contact us and we will quote you postage.
ONLINE - You can pay with Credit Card online. Click the add to cart button to pay via credit card (Mastercard or VISA).
OFFLINE - You can pay via Direct Deposit (bank transfer) or send a Cheque or Australia Post Money Order. Note: Direct Deposit is our preferred payment method and helps us to keep costs down. Click the add to cart button and select 'Offline Payment' at the checkout and you will be able to choose 'Direct Deposit' or 'Cheque/Money Order'.
NON-SPECIFIED AMOUNT PAYMENTS - You can make a payment for a non-specified amount here - Click to make a non-specified amount payment