Secrets of the Sambar Magazine
We invite you to subscribe to
The success of this magazine, in fact its very existence, is reliant upon loyal subscribers. So don't delay, please subscribe today.
Subscribers receive their copy in the mail 2 weeks before newsagency sale date and receive free entry to the Lucky Subscribers Draw (see prize details one this page)
Cost
1 year subscription - $45.00.
Price includes postage anywhere in Australia.
SOTS Magazine Subscription
$45.00
Price is per year (3 Issues). To add multiple years' subscription, increase the quantity.
Payment Options
*Postage within Australia and GST are included in the indicated price. If you require postage to a different country please contact us and we will quote you postage.
ONLINE - You can pay with Credit Card online. Click the add to cart button to pay via credit card (Mastercard or VISA).
OFFLINE - You can pay via Direct Deposit (bank transfer) or send a Cheque or Australia Post Money Order. Note: Direct Deposit is our preferred payment method and helps us to keep costs down. Click the add to cart button and select 'Offline Payment' at the checkout and you will be able to choose 'Direct Deposit' or 'Cheque/Money Order'.
NON-SPECIFIED AMOUNT PAYMENTS - You can make a payment for a non-specified amount here - Click to make a non-specified amount payment
---
LUCKY SUBSCRIBERS PRIZE!
Drawn Xmas Eve 24th December 2017.
Subscribe to the Secrets of the Sambar Magazine for your chance to win your choice of Vixen Artes 8.5x45 Binoculars valued at $1299 or a Vixen LVF 2.5 - 10x50 illuminated red dot scope (valued at $999) or Vixen LVF 2.5 - 10x56 illuminated red dot scope (valued at $1199).
Subscribe Today!
Franco Rossi - Lucky Subscriber 2015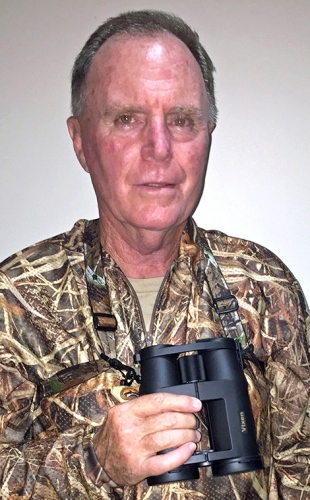 Franco Rossi of Ulladulla NSW is the Lucky Subscriber for 2015.
Franco is pictured with his prize - Vixen Artes 8.5x45 ED binoculars and Crooked Horn Camo Bino harness value at $1364. Well done Franco!!!
Previous Winners
2014 Winner:
The winner of the Lucky Subscribers Draw for 2014 is Tony Moss of NSW who won a Vixen LVF 2.5-15x50 illuminated scope valued at $1249.
2013 Winner:
Andrew Winbanks of Mulgrave Vic - Andrew chose the Vixen LVF 2.5-10x56 Red Dot scope (valued at $999).
2012 Winner:
Ross Hermans of Bruthen Vic - Ross chose the Vixen Artes 8.5x45 ED binos.
2011 Winner:
Andy Killeen of Maffra Vic - Andy chose the Vixen LVF 2.5-10x56 Red Dot scope.
View Other Winners
The Smarter You Hunt, the Luckier You Get!
Please Wait, Processing Payment.
Do not refresh or leave this page until loading complete.