Errol Mason's Hunt Smart
®

Training Course
Course Bookings, Fees and Legals
Bookings
Course Cost
$1650.00

$1500.00 (recession breaker discount) per person
Bookings can be made by paying a $500.00 deposit
or paying the full amount of $1650.00 $1500.00 (recession breaker discount).
Hunt Smart ® Training Course
$1650.00 ON SALE $1500.00
Please choose the full cost, deposit or balance payment from the dropdown
Payment Options
*Postage within Australia and GST are included in the indicated price. If you require postage to a different country please contact us and we will quote you postage.
ONLINE - You can pay with Credit Card online. Click the add to cart button to pay via credit card (Mastercard or VISA).
OFFLINE - You can pay via Direct Deposit (bank transfer) or send a Cheque or Australia Post Money Order. Note: Direct Deposit is our preferred payment method and helps us to keep costs down. Click the add to cart button and select 'Offline Payment' at the checkout and you will be able to choose 'Direct Deposit' or 'Cheque/Money Order'.
NON-SPECIFIED AMOUNT PAYMENTS - You can make a payment for a non-specified amount here - Click to make a non-specified amount payment
---
Balance
The balance of outstanding fees must be paid at least 30 days prior to the commencement of your course.
Balance can be paid Online with Credit Card, by Direct Deposit or by Bank Cheque / Money Order. See options above to make your payment.
You can pay a non-specific amount here via credit card to complete your balance: Make a Payment
Postponements
A booking may be postponed up to 30 days of the course date. Any money that has been paid will be transferred to a new date either in that year or the following year. The person postponing will be placed on the Emergency list for that year until a new course date can be offered.
Cancellations
Bookings cancelled outside 30 days of the course date will receive a full refund of all monies paid.
Bookings cancelled inside 30 days of the course date will incur FULL LOSS of ALL monies paid.
Liabilities
Errol & Lynne Mason, trading as Shikari Press, reserve the right to amend any itinerary, or cancel any course should it become necessary, and shall be exempt from all liability in respect of any detention, delay, loss, damage, sickness or injury incurred during the training course.
I look forward to seeing you on my 'Hunt Smart®' Training Course where over 3 days you will acquire enough quality information to hunt sambar successfully for the rest of your life.
---
Click here to read reviews of the Course
Training Course Certificates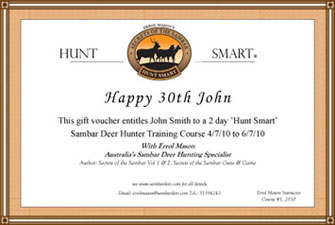 Give your loved one a Gift Certificate for a weekend with Errol Mason at his highly regarded 3 day Hunt Smart® Sambar Training Course.
Cost $1650.00 $1500.00 (recession breaker discount) including GST
To purchase a Gift Certificate select one of the purchase options on this page. In the checkout form there is an 'additional information' field - please use that field to let us know your payment was a Gift, who it was for and any other relevant information.
The Smarter You Hunt, the Luckier You Get!
Please Wait, Processing Payment.
Do not refresh or leave this page until loading complete.