Errol Mason's Hunt Smart
®

Training Course
Course Reviews
Brett Cooke - Hunt Smart
®

Training Success Story #6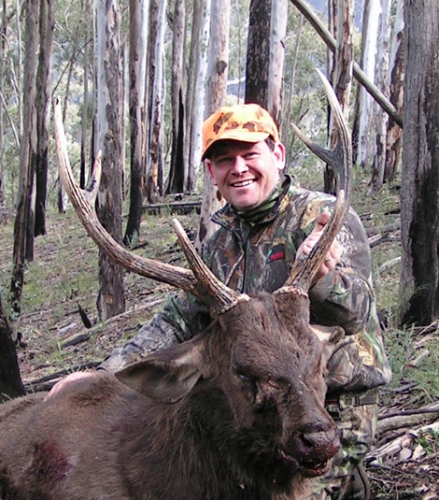 Over the years I have managed to take numerous hinds. I was even lucky to have bumped into a 29" stag on my 10th day of hunting. Despite my luck and steady learning through these few encounters, I knew I needed to learn more if I wanted become a sambar hunter, not just a hunter of sambar. As the years passed I managed to see undisturbed sambar but I could not piece the entire puzzle together. Frustration resulted in me dubbing them the 'Mystery Deer'.
Soon my book shelf was garnished with Errol Mason's magnificent work 'Secrets of the Sambar Vol. 1'. It provided me with a wealth of information for which to formulate strategies for future hunts. Volume 2 was soon added, providing more information than I could ever have imagined possible. These books are so comprehensive that I could not fully absorb it all in the short time I had before my next hunt. Again I returned home empty handed, causing me to conclude that I needed something to help me piece the information together in a practical sense. Flicking through an old copy of Guns and Game I came across an advertisement for Errol Mason's 'Beyond the Basics' Training Course. I ran it by my sympathetic wife - who accustomed to my many unsuccessful hunts - instantly supported the idea. A few emails to Errol and I was booked in. I re-scheduled my next hunt so that it commenced… Read Full Story >>
Brett Cooke, Orange N.S.W.
Carlo Nicolo - Hunt Smart
®

Training Success Story #5 This course caters for everyone from the novice to the experienced sambar hunter. It was refreshing to see that Errol made every effort to tailor this course to our specific needs instead of bogging us down with information we already knew. The field trips were astounding, with real-life scenarios dissected instead of going over text book cases.

As experienced sambar hunters, Errol helped us piece together the complex jigsaw that hunting these elusive animals presents, and it finally all made sense by the end of the weekend. It took someone with his knowledge and experience to confirm some of the hunches we had and also give us the why, where and how to go along with it. The secret world of the stag hunter is sometimes very hard to extract information from. To find someone who is so willing to share all this information not only shows Errol's dedication to teaching others, but also shows the passion he has for these deer, inspiring us to learn as much as we can about these magnificent creatures. We can highly recommend this course to everyone. Comfortable accommodation, outstanding hospitality and family atmosphere, great home-cooked meals (thanks Lynne, you are a Master Chef) and a wealth of knowledge at your disposal – wor… Read Full Story >>

Carlo Nicolo, Paul Brincat and Anthony Macciocca.
Matt Appleton - Hunt Smart
®

Training Success Story #3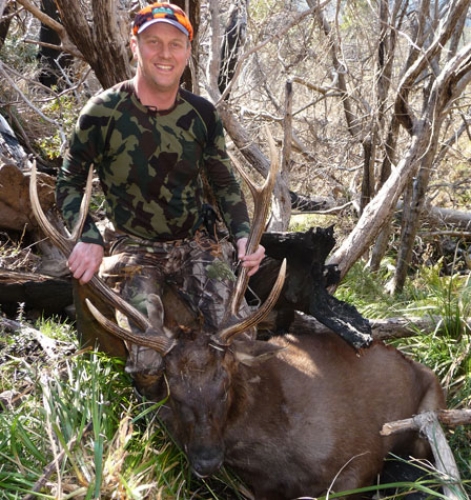 I have been hunting deer over the past 2 years and have had some success with the 'Walking Them Up' method of hunting that I taught myself following reading pretty much everything I could get my hands on as well as watching most of the videos available. To date I had managed 3 Sambar and 4 Fallow deer but no Sambar Stags. The best I had managed to achieve was fleeting glances of a departing stag even though I had watched Hinds through the binos on a couple of occasions for lengthy periods.
I figured there had to be a better way and have always considered the key to success is knowledge. After seeing a number of Errol's photos of unalarmed sambar (unalarmed being the key) and reading his articles, I guessed that his knowledge was far better than mine, I just didn't realize how much better. I knew how to put deer up and on that basis I figured I must have walked past many more than those I had alarmed, but this method was leading to more frustration than reward. To learn a hunting method that has taken 25inch plus stags consistently year after year for Errol's clients and be taught the science behind the method to back it up so that you can then put them into practice for yourself. You just cannot beat being taken to the area of a previously successful hunt and worked through deciding is there is a resident stag, how big is he likely to be, what and where i… Read Full Story >>
Regards,
Matt Appleton See Matt Appleton and Andrew Jones full story of 'The Team Work Stag' in Secrets of the Sambar Vol 3.
Keith Grundy - Hunt Smart
®

Training Success Story #1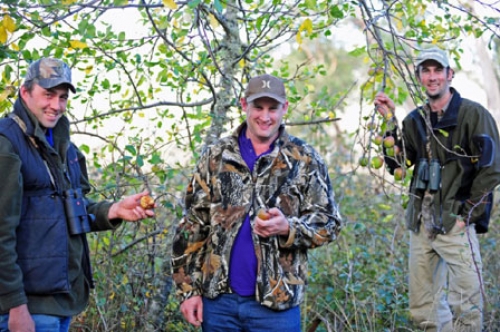 I really loved the course. It was fantastic.
I'll never hunt sambar the same way again. And I must give a special mention to the hospitality and food. It was simply awesome. Thanks Errol, Lynne & Daisy Read Full Story >>
Keith Grundy
Mialls Guns Shop, Frankston VIC