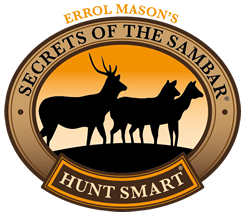 Jeff Martin -
HUNT SMART COURSE

Success Story #68
---
Dear Errol,   Just a short note to say how much I enjoyed attending your 2018 course and appreciate being able to experience The Hunt Smart System ® first hand.
As you know I have hunted deer in Australia for a long time as well as taking numerous trips to South Africa on plains and dangerous game.
I thought I knew a fair bit about Sambar and Sambar Hunting, and expected the course would simply reinforce what I knew.
I was amazed however at how much I picked up, whether it was around behaviours I had witnessed in the bush but could now put into context, or totally new information that I could apply to make me a better hunter.  
I am now a wagon wheel devotee. Instead of crunching through the bush and simply covering the ground, I am much more strategic because I now know where they will be!
What's more my hit rate has risen dramatically, and as you will understand, as I get older I need it to be getting easier not harder. Much appreciated.
PS – See photo attached of my latest high country success – a 30x33! Right on the face where your hunt smart system said it would be.
"By the way your new book is a cracker."
Jeff Martin, Melbourne