Errol Mason
Errol's Full Biography
Born in 1952 I was raised on the family hill country dairy farm in Victoria's far western district. The farm overlooked magnificent views of the Wannon River Valley, and from a young age, I was driven by an innate urge to wander and explore the abundant nature along the banks of old man Wannon, and later to fish and hunt along its winding banks.
A primal urge triggered me to buy my first air rifle when 14 - a Gecado .177 which I paid for with money earnt carting hay on neighbouring farms. Some may believe this to be very hard work, but I didn't know that. Next I graduated to a Gecado .22 air rifle, then a single shot Winchester .22LR and a Harrington and Richardson single shot 12 gauge shotgun. Armed with 'Rod & Rifle' I took great pride in harvesting fish, duck, rabbits and hares from the surrounding countryside which my mother taught me how to prepare and cook.
From the age of 14, I was passionate about learning everything I could about firearms and ballistics so whenever I could afford it I purchased a copy of Sporting Shooter and wore the print of the pages. I quickly identified that Nick Harvey was an expert in this area and I learnt a great deal from him. I continued to read everything I could about rifles and cartridges for small and large game and purchased many books and magazines on this subject. African Rifles and Cartridges by John Taylor was a favourite and due to his writings I became a fan of the .375 H&H. Rifles for Africa by Gregor Woods was another in which I assessed the suitability of the 9.3x62 for African game. But easily the most relevant to our deer hunting requirements was Jack O'Connor's classic The Hunting Rifle.
The book Finn Aagaard - Selected Works, gives advice about cartridges which during decades of guiding hunters in Africa and later in North America Finn found to be entirely suitable for large game. In regards to rifle actions, Mauser Bolt Action Rifles by Ludwig Olson and The Bolt Action by Stuart Otteson gave me a thorough understanding of the differences and the pros and cons between the many push feed bolt actions and the Mauser Model 1998 controlled feed action and derivatives thereof. In regards to shot placement and how bullets kill, The Perfect Shot authored by South African veterinarian and PH, Kevin Robertson provides vital must know information, as does The Sharp Shooter by New Zealanders Matt & Bruce Grant.
A passion for Australian Rules football plus a requirement to milk 63 cows and feed up to 50 calves every week day evening, every weekend and school holidays, caused me to develop a love for animals, a strong work ethic and a high level of physical fitness.
When 17, after successfully completing Form 5 (year 11) where my real love was English and Biology, inspired by the countless returned servicemen in my community combined with a patriotic urge from within to serve in the Australian Army, on March 15, 1970 I commenced basic training at Kapooka Recruit Training Battalion near Wagga Wagga, NSW.
From there I trained at The School of Infantry Ingleburn, Sydney before serving with the 9th Royal Australian Regiment 9RAR), scheduled to tour Vietnam in February 1972. Due to all Australian troops being withdrawn from Vietnam in 1971, I did not serve there.
I qualified with all small arms including the FN 7.62 SLR, the 5.56 Armalite, F1, 9mm sub-machine gun and the GPGM60 7.62 belt fed machine gun.
In 1971, I purchased my first high powered rifle - a Winchester Model 670 in 243 Win from Shooters Home, George St Sydney. Shortly afterwards I was transferred to 9RAR based at Enoggera Barracks Brisbane. Deciding to use this rifle for pig hunting near Goondiwindi, I had it rebarelled to 308 Winchester by Brisbane barrel maker TSE (Total Solutions Engineering). In 2020 - fifty years later - I fitted a TSE barrel to my custom FN Mauser 98 9.3x62. Metalwork was done by Bob De Vries of Kudu Arms, Montrose, and the stock was handcrafted by Ross Waghorn from a fine piece of Australian grown English walnut.
In 1971, I purchased my first Brno Model 2 at a cost of $99.00 from Robinson's Sports Store, Queen St Brisbane.
On my return to Enoggera Barracks after an extremely physical 7 day fully tactical training operation during which I lived with my platoon under an Army hutchie and ate 24 hour ration pack, we were granted 4 days leave. No I didn't head to the nearest night club. I packed the same army tactical camping gear into my FB Holden S/W and embarked on a 300 mile trip to Goondiwindi where I hunted pigs for the first time. I found them living 'high on the hog' on and around sorghum crops near the one horse town of Toobeah where I enjoyed a few beers in the local with locals.
In late 1971 Australian troops were withdrawn from Vietnam and the newly elected Whitlam Labour government cut defence spending by approx. 50 per cent so I applied for and was granted a discharge. From 1972 to 1973 I worked as a professional pine faller near Mt Gambier S.A, and later, as a jackaroo on Kaladbro cattle station at Strathdownie Vic.
During this period, rabbits were over running my sister Valerie's farm on the banks of the Toolondo Reservoir, so I was called upon to reduce their numbers. My super accurate Brno Model 2 fitted with a Tasco 4x32 scope in Hillver high mounts was zeroed to be on POA at 25 yards, 1 inch high at 50, on POA at 75 and about 3.2 inches low at 100.
Using 40gn ICI Hollowpoints, I head shot hundreds of rabbits, many as far away as 100 yards. To this day I still own a Brno Model 2 and use the same tried and proven zero. With Vixen LVF 2.5-10x56 G4 scope, and Winchester 40gn Hollowpoints, from 25 yards it puts 15 shots into a 5 cent piece. Joined VicPol January 15th 1973.
In January 1973 I joined Victoria Police. After initially performing duties at the Russell St Police HQ, I then served in the Mounted Police, then the Yallourn and Horsham police stations, before transferring to the Nunawading Crime Car Squad.
During this period - especially whilst at the crime car squad and later at the Stolen Motor Vehicle Squad - I further developed the comprehensive investigation skills necessary to be able to 'Search for and ascertain the Truth' pertaining to various types of serious crime. This required me to employ various investigative methods to establish the facts and at times required covert surveillance of suspects.
One of these investigations into an organised crime gang lasted several years whilst another lasted several months.
I interviewed all witnesses and obtained signed, detailed written statements from them. All evidence relating to a crime was collated and carefully analysed, first of all to determine that an offence had been committed or was in the process of being committed and to identify the perpetrator/s. Once all evidence was collected and analysed, then, and only then were the suspects brought in for interview. I then compiled a brief that contained all available evidence. By nature it was vital that it was factual and concise, and had a logical easy to follow flow of evidence so that a magistrate, or judge and jury could easily understand it.
Walking-Them-Up' During the Decade 1979 - 1989
After I had 'walked-them-up' without great success for the decade 1979 to 1989, in 1990 I began my study of these Big Brown Deer. When I began my study, if someone had told me how much I would discover I simply wouldn't have believed them. The reality is that I have been literally 'blown away' by how much I have learnt and what I am still learning.
From the moment I began hunting them in 1979 and when I began my study in 1990, Sambar were said to be so tough and tenacious that large powerful calibres were needed to consistently kill them cleanly. And if that wasn't challenging enough, they were also said to be so elusive and unpredictable that the only thing certain about them was uncertainty itself. Little wonder novices like me armed themselves with powerful cartridges like the 338 Win mag, 375 H&H and even 458 Win mags.
I wanted to learn as much as possible about their biology, ecology, behaviour and strategies for hunting them, I also wanted to understand every aspect of hunting them such as suitable rifle actions and scopes, binoculars, calibres, projectiles, shot placement, how bullets kill and how to track wounded deer, as well as how to care for venison from forest to plate.
In my quest for this knowledge I acquired a comprehensive library of the best books and scientific reports on all subjects. I studied these to the nths degree. I supplemented this knowledge with my own plus the experiences of other hunters to ascertain what I concluded to be the truth.
After reading a hunting story in Australian Deer magazine I would contact the hunter and asked if he would complete a survey about that hunt. Most agreed, so I mailed them a survey in which I asked them to answer about twelve questions. All questions were designed to ascertain facts not included in their story. The answers helped to provide new insights into sambar behaviour, some of which contradicted many aspects of their behaviour that were well entrenched at that time.
In 1979 when I first began to hunt sambar I had next to no knowledge of these deer, nor did I know what calibre was required for one shot instant kills. I was told that a large powerful calibre such as a .338 Win Mag or a .375 H&H was necessary to kill these large deer, because they were said to be extremely tough and tenacious. So my first sambar rifle was a Remington Model 700 Safari grade in .375 H&H. Although it weighed 11lb all up, I found it no burden for during my time in the infantry I carried the GPM60 machine gun and a 100 round belt which in total weighed 30lb.
Having just retired from Aussie rules where my position was rover, I was extremely fit so I could - and did - walk all day in our forested mountain country in pursuit of these Big Brown Deer. I pursued them with a passion and managed to harvest one for every 12 full days of 'spook and shoot' - mostly at a rapidly departing blur. Due to less than perfect shot placement at two hinds as they exploded away, despite being hit with a .375 H&H 270gn projectile they managed to run a long way.
This fact caused me to continue to search for the truth about what calibre was really needed for sambar and I listened to the opinion of many consistently successful hunters. One hound hunter told me that he had shot countless sambar with his BAR 270 using 130gn pills and his BAR 30-06 using 180 grainers and he found that he obtained more one shot kills with the 270 than the 30-06.
In my search of the truth about suitable calibres for sambar I continued to seek the opinion of other hunters, and I found that many had used standard calibre such as 270 Win. 308 and 30-06 for many years without losing deer wounded.
So I purchased a .308 and my first shot with this calibre was at a stationary spiker from just 40 yards. Because he was stationary, I was able to place my shot in precisely the right spot and he dropped on the spot. Then I killed several others with one shot using the 308. My belief in the need for a large calibre was slowly but surely diminishing.
By the time I commenced my fully guided sambar hunts in May 2000, I was convinced that a .270 Win. a 308 Win., or a 30-06 and - depending on the calibre - a well-constructed bullet weighing between 130 and 180gns was totally adequate for sambar and all other deer.
In my very early guiding days, clients were well versed with 'walking-them-up' for sambar hunting so they expected me to do use this method. They appeared to be dissatisfied when I didn't hunt this way, and used sit and wait ambush tactics instead. I think they felt I was being lazy.
In fact Charlie Mitchell - a New Zealander now living in Perth - who was slim and very fit, on the first day of his 5 day hunt, insisted that we walk to a distant mountain top. I insisted that would be wasting his valuable time because after we were further than 800 to 1000m above the valley floor sambar sign would rapidly vanish, and the higher we climbed the less we would see. Hours later when we finally reached that distant mountain top - just as I expected - we found find zero Sambar sign. But Charlie insisted so I did exactly what he wanted. Charlie shot his big stag two days later from just 24 paces, whilst in a sit and wait spot where I had left him, 600 yards from the valley floor.
In my first year guiding Sambar I mostly tried to 'walk-them-up' with minimal 'sit and wait' tactics, but every time we attempted to 'walk-them-up' the deer exploded away making any shot impossible - let alone a well-placed one which was likely to cleanly kill the deer. Of course when two hunters are trying to walk-them-up, the sound, scent and movement is double that of a solo hunter, making it even more difficult than this method already is.
Between hunts I would spend days locating and getting to know the behaviour of mature stags for future guided hunts. Whilst doing this, at times I experimented with 'walking-them-up' where I knew sambar would be bedded. Without exception, the instant I took five steps into that dense, crackly undergrowth a hind or stag exploded out of their beds and were gone.
Slowly but surely I began to conclude that 'walking-them-up' was the most ineffective method for hunting Sambar because they are constantly alert to the slightest indication of a predator - especially the slightest sound.
Early one morning in September 2002 - whilst 'walking-them-up' - Glen Turner and I spooked a massive Sambar stag from his bed from just 30 yards away. Glen was unable to get a shot at the rapidly departing animal until he was 150 yards away. The stag showed no indication of having been wounded, but we tracked him for several hundred metres without finding any blood or any other indication of him being hit. Nevertheless we were unable to conclude for certain whether or not he had been wounded as we never saw him again.
That was a decisive moment for me. From that moment I drew a line in the sand. I was emphatic that I would never 'walk-them-up' again. I would only employ sit and wait ambush strategies which would ensure that if a client had the opportunity to take a shot, it would be at stationary deer, that was as far as possible, completely broadside to us, the position which provides the best possibility for instant one shot kills.
Suddenly my client's success rate increased exponentially. Every shot taken was at a stationary deer which was standing broadside, and mostly the client fired from a rest. With few exceptions, every sambar stag - irrespective of body mass and calibre - was killed instantly with one shot.
Occasionally a client wanted to me take them out in pouring rain but I did my best to assure them that this was at best a bad idea and a complete waste of time. I said we would wait until the rain cleared and then we would watch precisely the right spot. Some clients wouldn't listed and went out in pouring rain and came back less than an hour later empty handed and soaked through. Others wanted me to take them out in 35 C summer heat. I declined and asked them to be patient, insisting that we would hunt the right spots in the cool of first light and again in the cool of evening and assured them that they would get their stag - and they did.
If a client needed me to loan them a rifle I provided a Browning Safari Grade M'98 controlled feed 30-06 firing 180gn Remington Core-lokts. With that they killed Hog deer, Chital, Fallow, Rusa, Red and Sambar, from hinds to the biggest bodied stags, all with one shot.
We never lost a deer wounded that we were unable to find within a few minutes and when we found it, it was dead.
Errol at the Hunting & Fishing Museum in Munich in 1989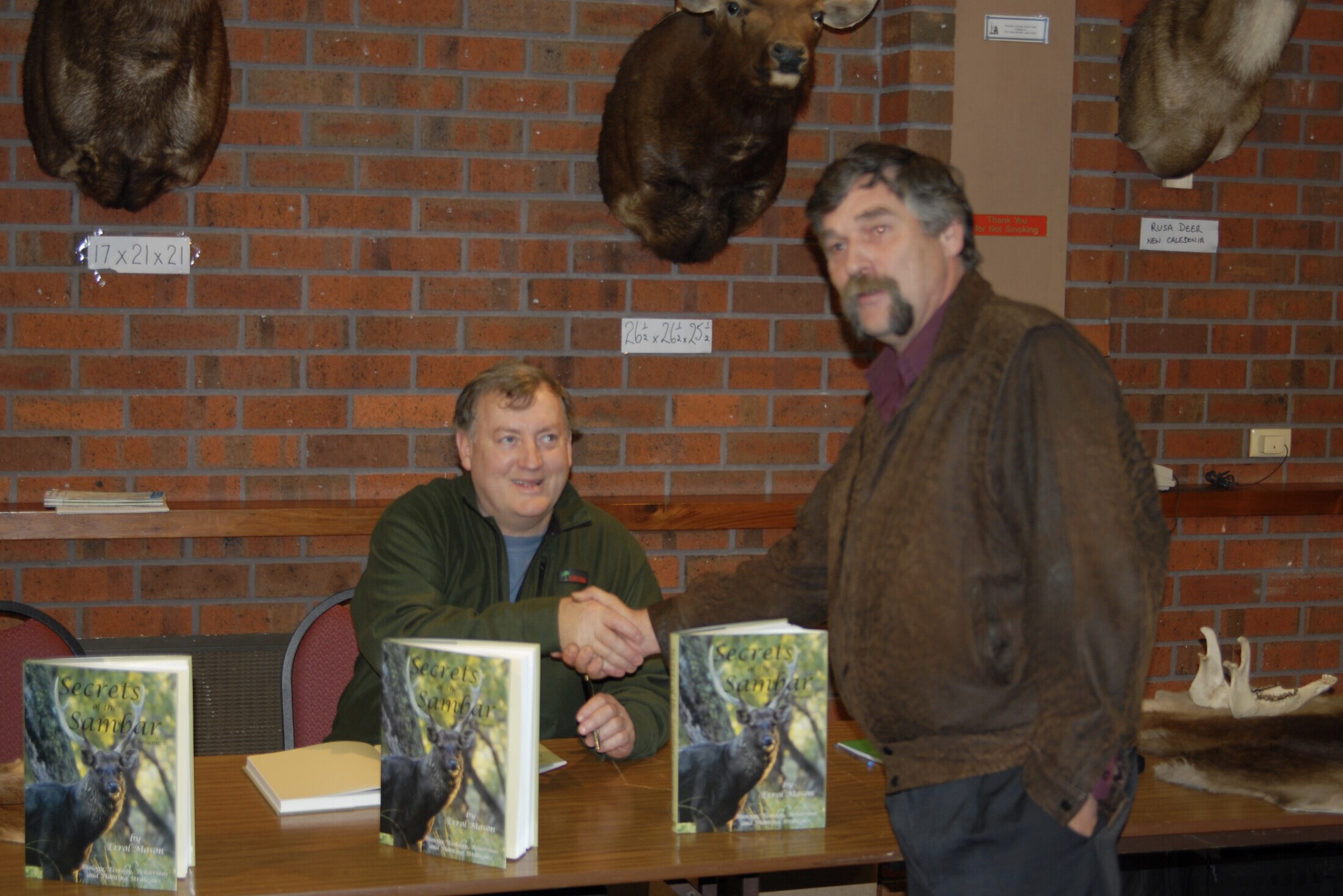 Errol at ADA Tasmania North West Trophy Exhibition where the previous evening he gave a presentation on Sambar behaviour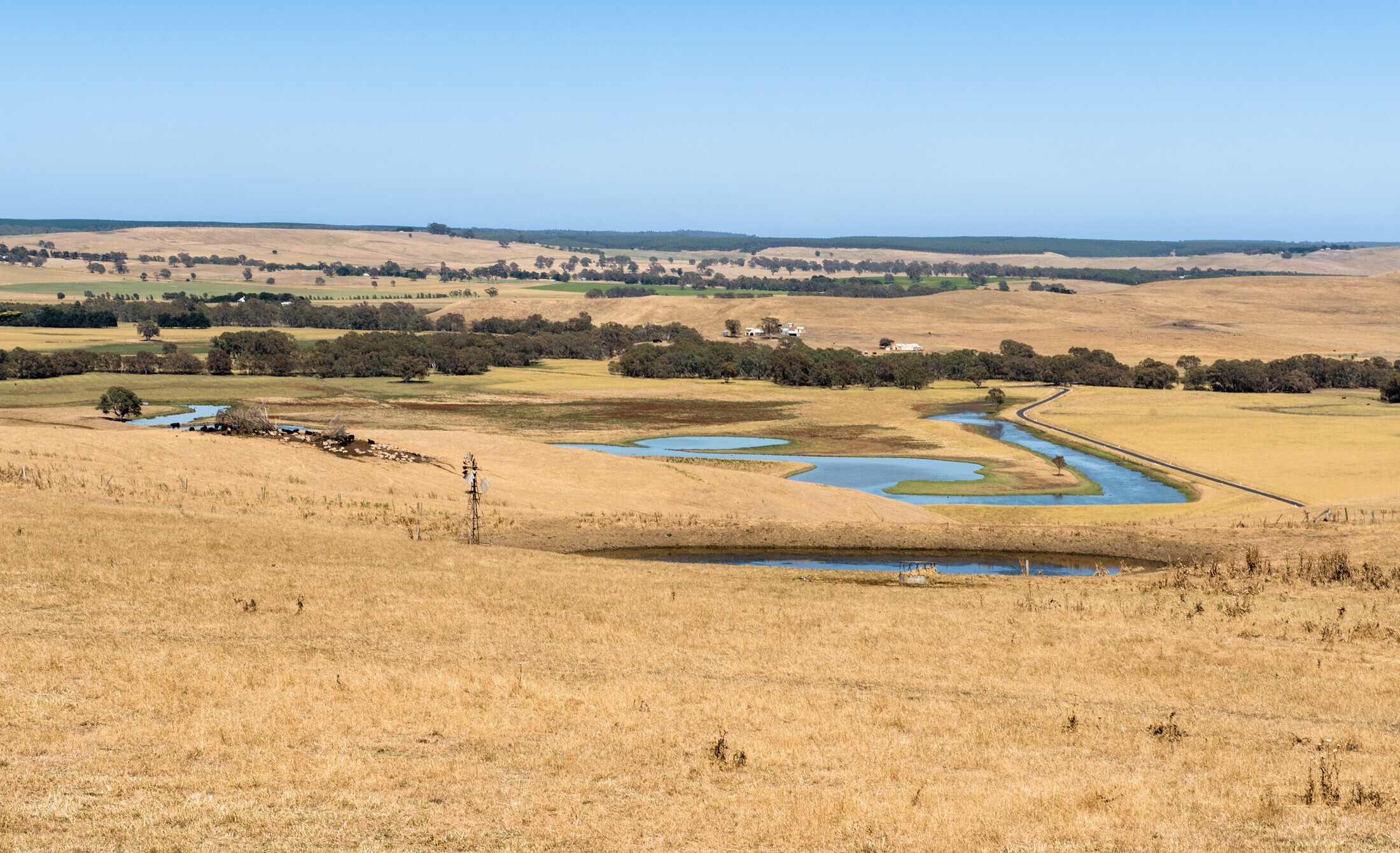 View over the Serpentine and the Wannon River Valley from the Mason family farm where Errol was raised in the Victoria's Far Western District. January 2017.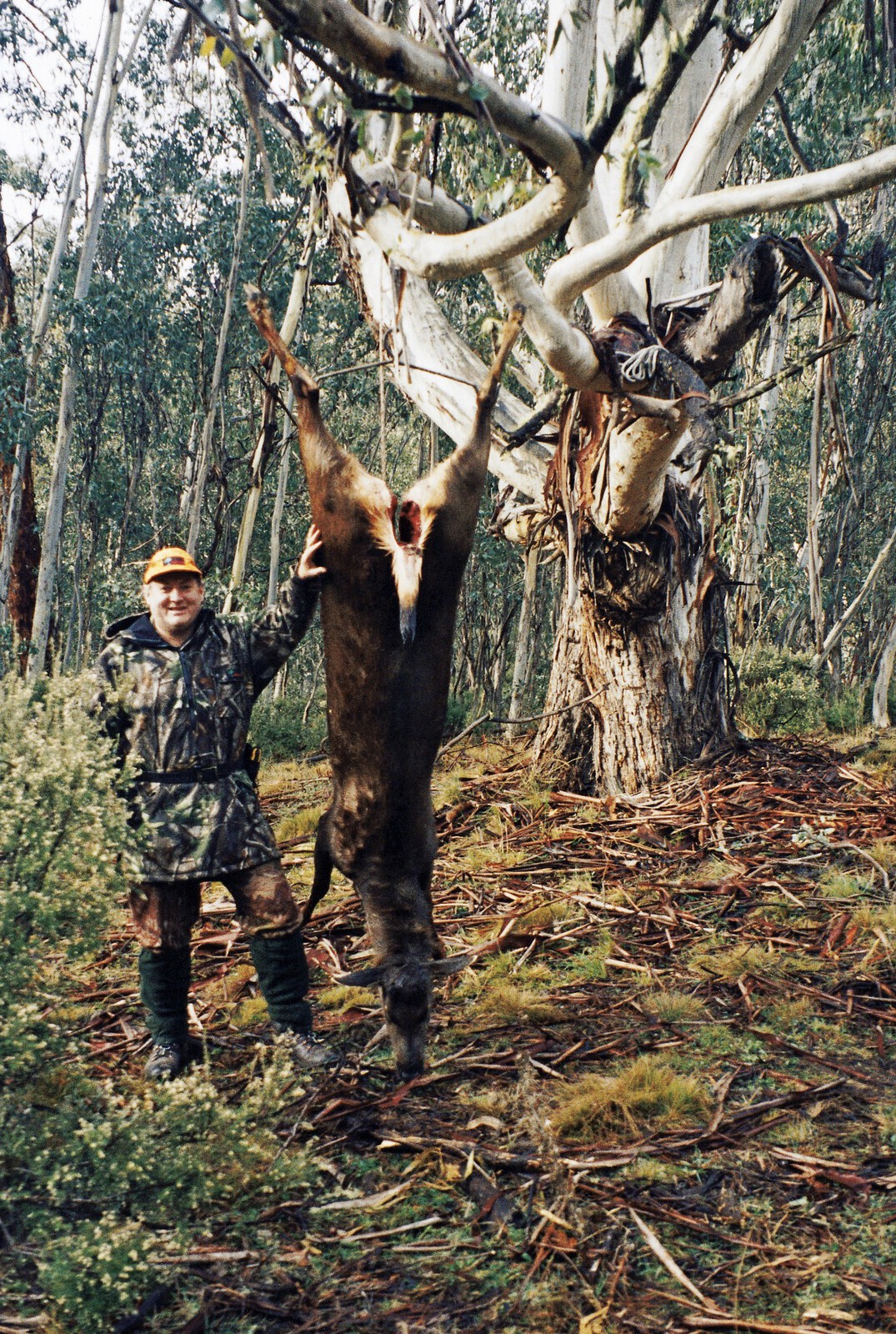 Errol with a Sambar hind a client harvested for venison.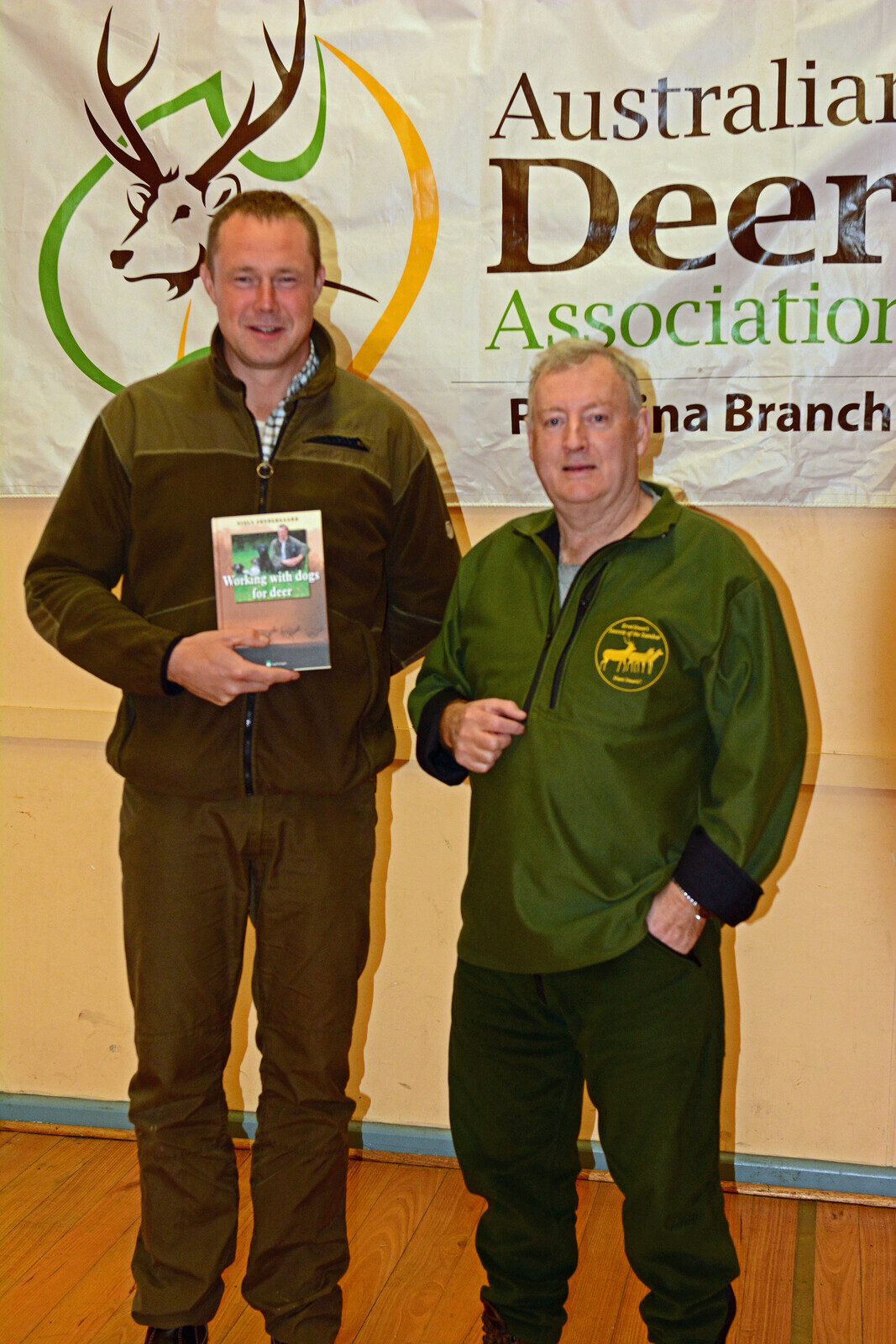 Errol was key note speaker at the ADA Riverina Branch Gun Dog training weekend at Tumbarumba NSW. Pictured with Nils Sondergaard, Danish expert in training dogs to search for wounded deer.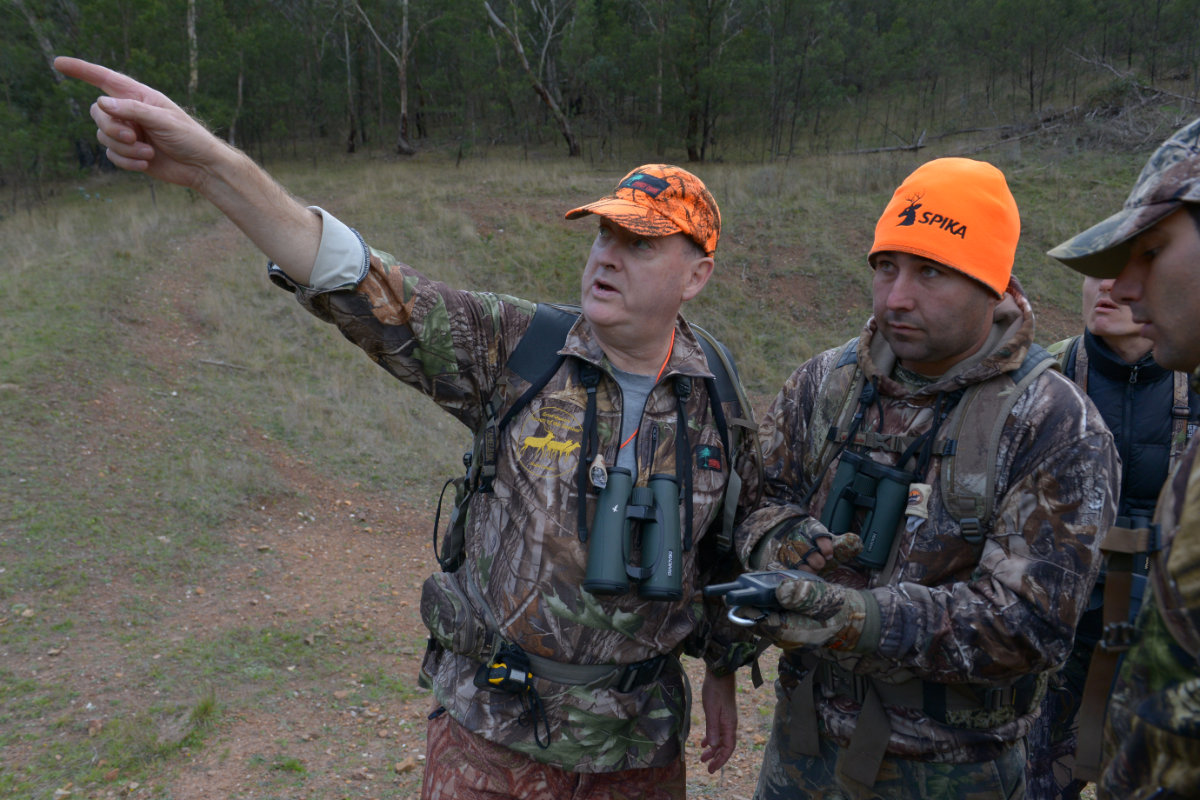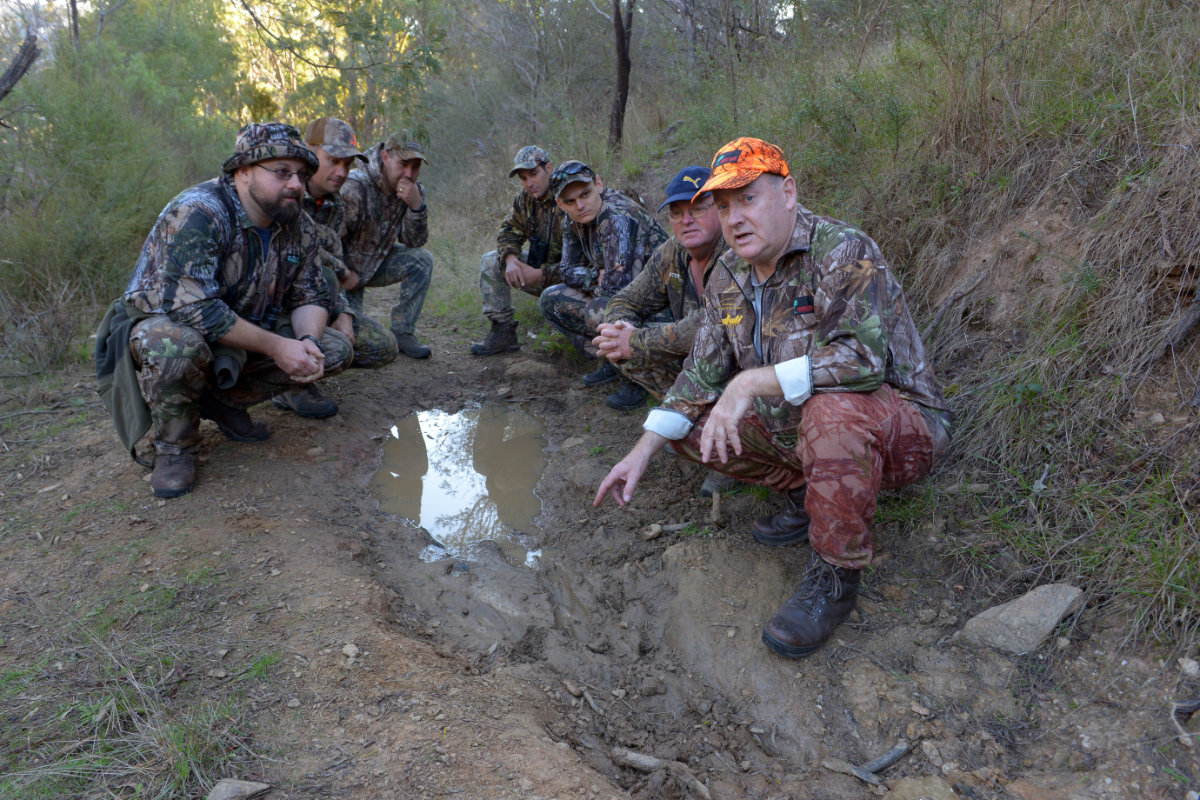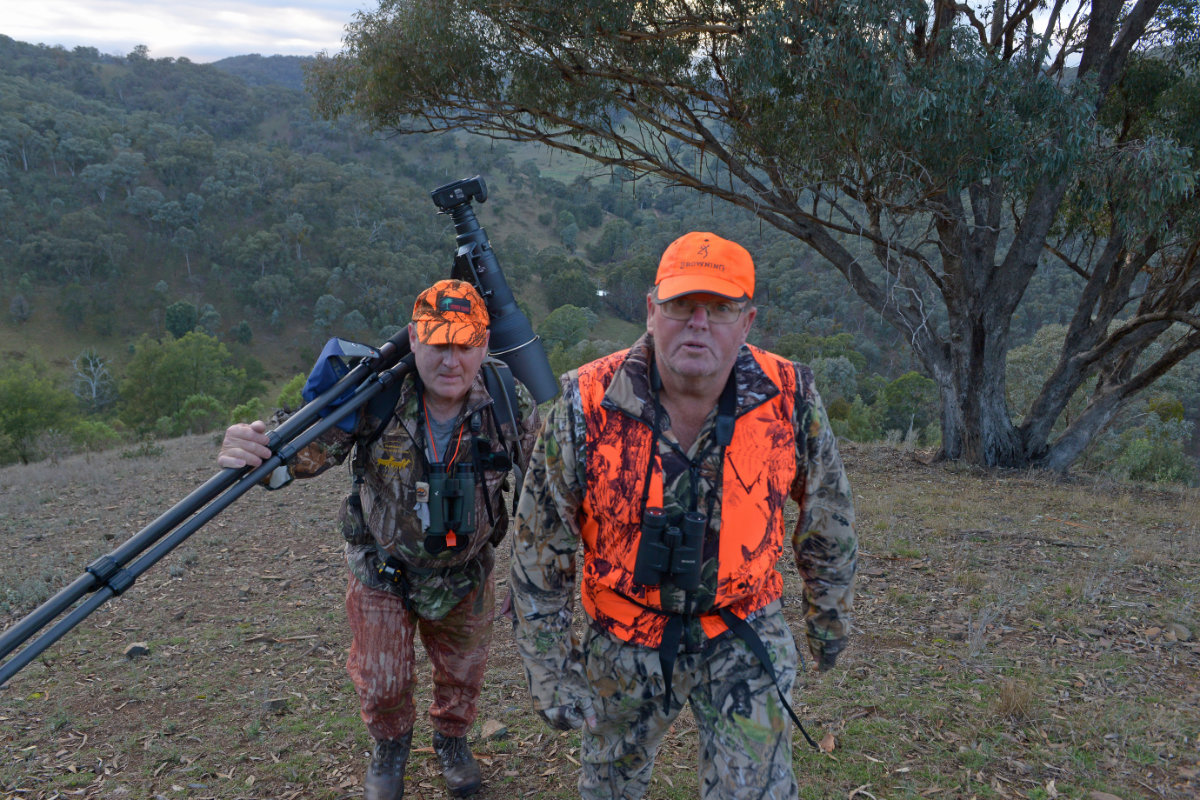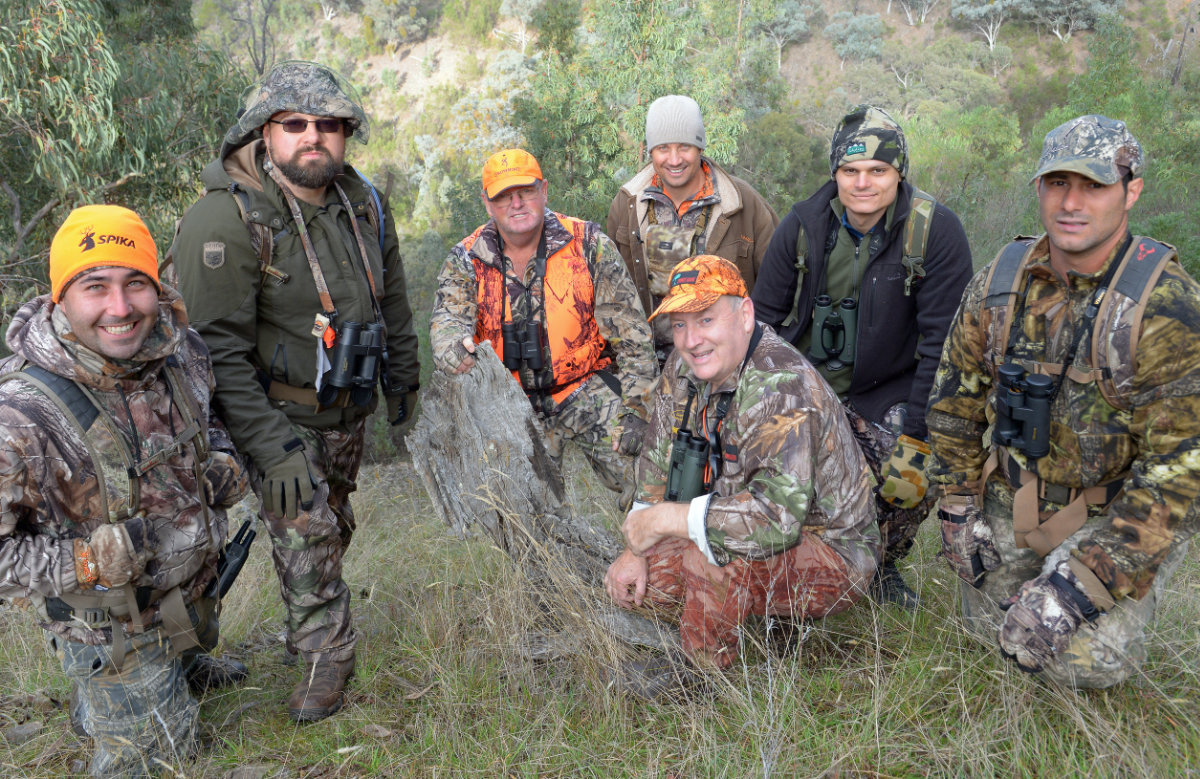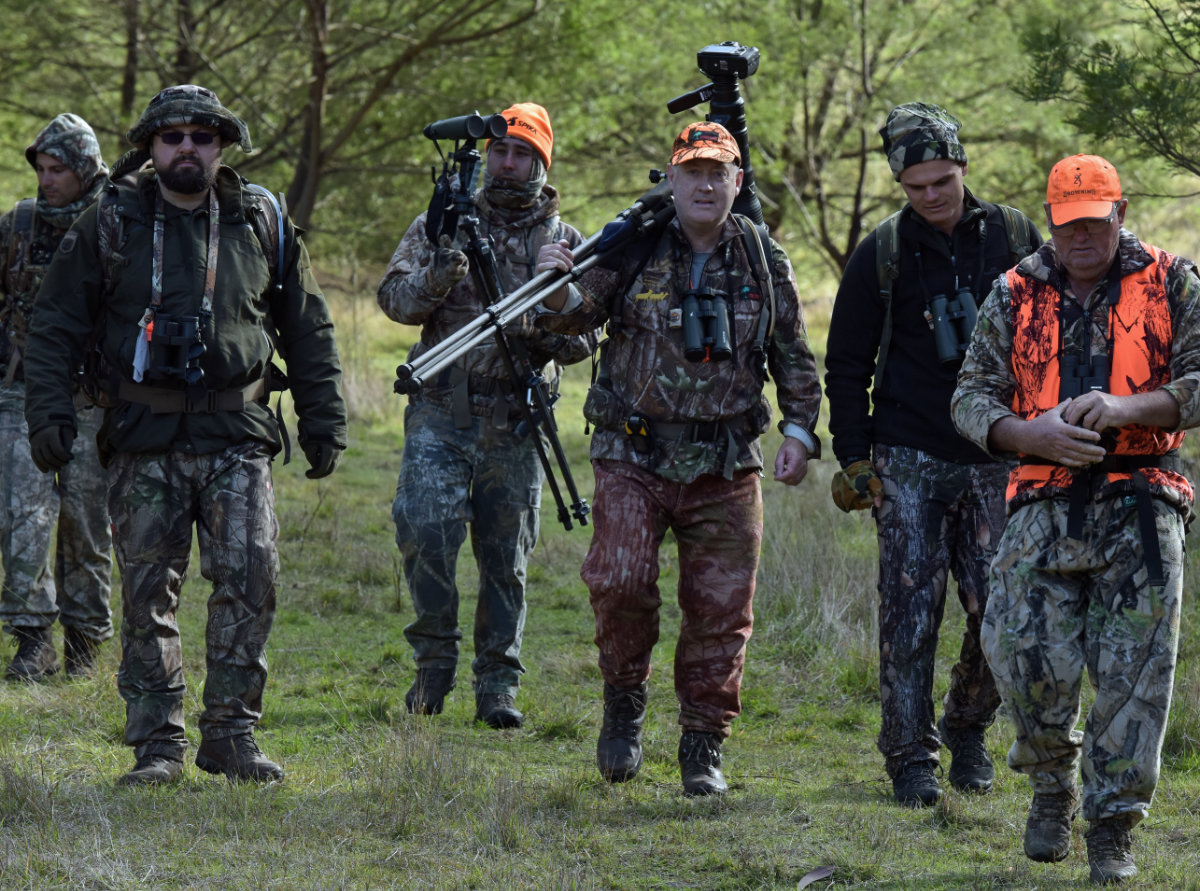 For clients who wanted a more powerful cartridge, I provided a Winchester M'70 controlled feed .375 H&H and 270gn Barnes X bullets. However, unlike the 06 when only one shot was needed for a clean kill - clients who used the .375 needed at least 2 and sometimes 3 to kill Rusa and Sambar. So I stopped lending it - only offering the 30-06 which clients - without exception - had made one shot instant kills on all the deer species. Research conducted since has revealed that the Woodleigh 240gn PP is an excellent projectile to use in the 375 H&H when hunting sambar. The Barnes 270gn X bullet is too hard for sambar and all other deer.
But most clients brought their own rifle. Armed with a 270 Win and 150gn Nosler Partitions, Alan Deacon killed a very large bodied stag with one shot. The stag dropped to the shot and died so fast if I hadn't seen it with my own eyes I wouldn't have believed it. It was nothing short of amazing. The bullet and its fragments and other secondary projectiles such as shards of rib bone had completely destroyed the lungs of this large stag.
Another stag, not nearly as large in the body as Alan's was shot by Chris Kinsella with a 375 H&H, but because the shot placement was not perfect, at the shot that stag bolted into the adjoining gully system for about 300 yards before dying. On a previous hunt Chris shot a sambar -stag of similar size with his 375 H&H and the same projectile - a 270gn Winchester Failsafe - and because the shot placement was perfect it died instantly. Many clients harvested mature hinds for venison - most used a 30-06 and a 180gn Core-lokt. All dropped within a few yards and were dead within moments. A hind that ran further than any other - about 60 metres was shot by Chris Gleeson using a 375 H& H. John Harvey killed a 320kg stag with one shot from a 338 Win mag using a circa 1080 Winchester soft point. It dropped at the shot, staggered 5 metres then died.
These days I readily admit that during my first decade of sambar hunting that I was in fact, simply 'bushwalking with a rifle.' But this decade was far from wasted, because during the following two decades during which I studied them, I realised that not only had I made every mistake in the book, but I had made the same mistakes over and over during this ten years of spook and shoot. Consequently I know all the mistakes that my readers and training course participants are constantly making, and it is these mistakes which are preventing them from being successful, other than perhaps the occasional deer that they manage to bag due to purely good luck.
In what was largely the 'spook and shoot' era, very little was said or discussed about sambar biology, ecology and effective strategies for hunting them. It was as though this knowledge was not important. Magazines were filled with articles about the various rifles and cartridges which a particular writer believed to be necessary to take them with one shot.
Most of the talk around campfires and at deer hunting club meetings was the same. Many sambar hunters - especially hound hunters - used the semi-auto Browning BAR, Remington Woodsmaster Model 742 or the Winchester Model 100 which were legal prior to the Port Arthur massacre which occurred 27th April 1996. Unlike the Remington and Winchester semi-autos that were only available in standard calibres, the BAR was also available in .338 Win. mag. The belief about the need for heavy bullets and extremely high muzzle energy was so strong that some had their BAR rebarreled to 35 Whelen, and even 458 Win mag.
The 9.3x62 and 375 H & H magnum were also very popular and due to ignorance of what calibre was really necessary - I was also misled into believing that being armed with a powerful rifle was the key to success so my first sambar rifle was a .375 H&H which fired a 270gn pill at a muzzle velocity of 2760fps for a muzzle energy of 4500ft lbs. This cartridge had been proven over many decades to kill the biggest beasts that walk the earth with one shot, so surely no sambar hit with it will be able to escape.
However, in late 1989, driven by complete dissatisfaction with knowing extremely little about this elusive deer, I sold my recently completed custom 30-06 built by Jack Miller (previously the owner of Shooters Supplies Russell St Melbourne) on a military FN bolt action and fibreglass stock, to finance my first professional camera for wildlife photography.
After consulting the best books of US wildlife photography gurus of the day - especially John Shaw's The Nature Photographer's Complete Guide To Professional Field Techniques - I settled on a Nikon F3, a Nikon 300 f4 IF ED lens, a Manfrotto 055 tripod, a ball & socket head and a cable release. Simultaneously I began to assemble a library of the best scientific books and reports regarding deer biology, ecology, behaviour and strategies for hunting them with bow, rifle and camera. I also acquired the best books regarding shot placement, calibres and cartridges, projectiles, game animal anatomy and how bullets kill.
I left no stone unturned in my thirst for knowledge - not only about Sambar - but about all species of Cervidae, and every subject relating to them. In these early days Arthur Bentley's (AB) classic book An Introduction to the Deer of Australia, first published in 1967 helped me to get started. At that time AB was chairman of the Australian Deer Research Foundation (ADRF) and managed sales of the books it published. We both lived in Croydon so I visited him regularly and we became close friends. Another excellent source was 'The Game Conservation Centre' located in Fitzroy owned and operated by Max Downes and his late wife Winifred. I lived just 15 minutes from Max's home in Heathmont, so I was able to collect books from there and during these visits I enjoyed many helpful conversations with this wildlife biologist of 50 years of practical hands on, in the field experience. Over many years Max was my technical advisor on all things relating to sambar.
I quickly discovered other rich sources including David A. H. Grayling Fine Books on Big Game Hunting & Deer Stalking from the UK, and Wegner's Bibliography on Deer & Deer Hunting by Robert Wegner.
Being able to ride on the shoulders of so many giants rapidly increased my learning curve and I was on my way.
The title of these books and many more is included in the 'References' at the back of each volume. In SOTS Vol. 3 and The Hunt Smart System, the page number of the title cited has been included. By the time I began writing SOTS Vol. 3 in 2010 I had acquired a number of books about evolution and through them obtained a good understanding of this very important subject. Consequently the first chapter in SOTS Vol. 3 is called 'Evolution of Sambar as Prey of Tiger, Leopard, Wild Dog and Man'. The chapters in SOTS Vol 3 and The Hunt Smart System book provide a different perspective on the effect of evolution. By purchasing the best books about anthropology, but in particular titles which contained countless photos of cave paintings from various parts of the world, I acquired a sound understanding of how vital hunting was to the evolution of mankind. Each cave painting is accompanied by interpretations by anthropologists. The significance to sambar hunters of the numerous cave paintings found at Bhimbetaka, India is discussed in the chapter 'Sambar - Understanding Their Evolution' in 'Secrets of the Sambar - The Hunt Smart System.'
In 1990 I began observing and taking high quality photographs of Sambar in the Bunyip enclosure. The enclosure provided a unique opportunity to record the biology such as the size and description of known age deer, but especially to record the antler cycles of known age stags. In an attempt to obtain a complete record as possible, I visited the enclosure almost weekly for a decade. Many of these photos illustrate the chapters 'Antler Development' and 'Antler Casting' in SOTS Vol. 1.
I also spent many days in the surrounding densely forested Bunyip State Park where I photographed every detail of sambar behaviour. During these 'In-Close' camera hunts I often supported my camera with a monopod and in extremely low light used fast Fuiji 1600 ASA film, but the detail and colours in the images taken of these stags was noticeably inferior to those taken with Kodachrome 64. See SOTS Vol 1, p.25 & p. 88, and SOTS Vol 2, pp. 62-63 for 'In-Close' photos of wild stags taken in the surrounding Bunyip State Park.
That was back in the days of film cameras when taking a photo in low light was extremely challenging as one couldn't just dial up the ISO to compensate for failing light in which sambar typically move. At this time the deer in the enclosure were as wary, elusive and wild as their free ranging relatives in the surrounding State Park. The reason for them retaining their wildness was due to the enclosure caretaker, Mike Harrison, going to great lengths to ensure that they remained as close to wild as possible.
When I first attempted to photograph these enclosed deer, he was unable to find them amongst the 36 acres of native forest and a dense tea tree swamp. Then suddenly I experienced a light bulb moment - I got a glimpse of these 'enclosed deer' with heads lowered, sneaking stealthily through the undergrowth before disappearing into the dense tea tree swamp. I had just witnessed how smart Sambar really are. I discovered that Mike Harrison had achieved his goal - these enclosed deer were very difficult to find and usually photographs were only possible in what has more recently become known as 'sambar hour' - although 'sambar half hour' is more accurate.
Initially my best photographs - including those taken of the free ranging wild sambar in the surrounding State Park - were shot off a tripod mounted Nikon F3 camera fitted with a Nikon 300mm f4.5 IF ED lens.
For best possible results, I used what the professional wildlife photographers of the time used - Kodachrome 64 ASA slide film - exposed at ASA 80. Not only did this film capture the finest detail, but the colours were so natural they always matched the subject perfectly. To a lesser extent I also used Fuiji Sensia ASA 100, and Fuiji Velvia ASA 50 which gave beautiful vivid colours which really jumped out.
But due to the low light of 'sambar hour' photos had to be taken with the lens wide open at its f2.8 aperture with a shutter speed of a mere 1/8th or 1/15th of a second. To prevent the slightest movement of the outfit, photos were taken using a cable release.
Nevertheless, I was able to take many fine photos with that outfit, but due to the low light in which sambar typically move, and the fact that to obtain high quality images I had to get within 60m or so, which demanded a much quieter shutter than the F3's. So I progressed to a Nikon 4s which had a quiet shutter mode (far quieter than the F3), and to the much brighter Tamron SP 300mm f 2.8 lens. Between 1990 and 1999 I used this superb combination to take countless photographs of sambar - inside and outside the enclosure in the Bunyip State Park.
The lenses of that time were all manual focus - auto focus simply didn't exist. Due to the extremely slow shutter speed of 1/8th or 1/15th of a second which I used to compensate for the slow fine grained Kodachrome 64 ASA film and low light - the slightest movement of the deer caused blurring of the image - but as a Sambar's ears are in a state of constant movement - just 3 or 4 frames out of 36 were keepers - the rest were either blurred or slightly out of focus, so they were relegated to the rubbish bin. During this decade I operated two trail cameras in the Bunyip State Park. These early trail cams comprised three parts - a transmitter which sent a red beam to a receiver up to 20m away. An Olympus weatherproof film camera was attached to the receiver, and the instant the beam was broken - for example by a sambar standing in it, or moving through it, the camera was triggered and photos taken. The most relevant of these illustrate the chapter 'Signposting' in SOTS Vol 1.
Between 1989 and 1992 I was the editor of the VicPol Monthly Bulletin, a 40pp magazine designed to assist operational police with changes in law, new case studies and guides to assist them when faced with difficult planned and unplanned situations. In 1989 I wrote the first ever guide for police and Fisheries & Wildlife Officers to assist them with the difficult operational and legal scenarios they commonly found themselves in, especially on the opening day of the Duck season. I brought to their attention that (at that time) under the Crimes Act Vic, it was a specific offence of theft for any person to take or remove game that a hunter had legally harvested.
1989 - Study of Game Management in West Germany
In 1989 I travelled to Bavaria in West Germany where I was the guest of a wealthy German hunter who leased several large hunting blocks in Bavaria. During the 3 weeks I was there, I studied hunting techniques and game management, and on returning home wrote an article about this which was published in the Australian Deer magazine.
Massacres in Australia and New Zealand
In the late 1980's, there was a number of mass killings - namely Hoddle Street, Melbourne (9 people murdered - many more wounded), Queen Street Melbourne (8 people murdered), Strathfield Plaza NSW (7 people murdered), the Top End (N.T.) (4 people murdered) and Aromoanna N.Z. (13 people murdered) - a total of 31 people killed, and many more wounded physically and countless more left traumatised for life.
These 'massacres' provided Gun Control Australia and other anti-gun anti-hunting groups with a huge amount of powerful ammunition which they used aggressively in an unrelenting attempt to 'shoot down' private firearm ownership of firearms in Australia.
1990 - 1999 - Study of Captive Sambar in the Bunyip Enclosure & Free Ranging Sambar in the Surrounding Bunyip State Park
In 1989 - whilst still in the force - I began research for a book about Sambar and driven by this aim, almost weekly between 1990 and 1999, I visited the Bunyip Sambar enclosure where he observed and photographed the biology, ecology and behaviour of Sambar in the Bunyip Enclosure. This enclosure provided a unique opportunity to observe and photograph the biology of known age stags, hinds, spikers, juveniles and calves etc. Many of these photographs have been published in SOTS Vol 1 and 2.1990 - 1999 - Study of Captive Sambar in the Pendleside Enclosure
During the same period, I also visited 'Pendleside'- a grazing property owned by the late Geoffrey Haggard which contained an extensive Sambar enclosure at Woori Yallock Vic where he observed and photographed sambar. He obtained a copy of a report compiled by Melbourne wildlife biologist Mr Max Downes, titled Sambar in Victoria: The Forest Deer Project 1982. Max had conducted a study of sambar held within the Pendleside enclosure, and had included a significant amount of data and photographs from this study in the above report.
I was able to record many unique observations at Pendleside, including photographs of a sambar hind giving birth to a sambar calf and photos when it was just hours old. I obtained both cast antlers for the fifteen years of life of the captive stag Prince, which I measured and weighed. See p. 48 and p. 50 of SOTS Vol 1 for full details of these antlers.
Investigation Skills Developed During 27 Year Career in VicPol
During my 27 year career with VicPol - in the main - I performed operational duties in the Operations Department in the Mounted Branch, Yallourn and Horsham, Brunswick, and Lilydale Police stations - the Nunawading Crime Car Squad and the Stolen Motor Vehicle Squad. Later I was the Inspector in Charge of Policy, Standards and Compliance for the LEAP database and an Inspector Patrol Officer in Region 1 where I performed duties in the Melbourne city and inner suburban areas.
During this time I developed high level writing and investigation skills whilst in search of the truth about the numerous and varied crimes that I investigated personally or oversaw the investigation of.
Applying Investigation Skills to Study Sambar
Possessing an innate inclination to always 'search for the truth' was to become an extremely valuable skill which I was to later apply whilst 'searching for the truth' about sambar biology, ecology and behaviour, and developing effective strategies for hunting this elusive Big Brown Deer.
Whether investigating criminals or sambar, it is vital they are not aware that you are observing them, for if they are aware they will change their natural behaviour. To ensure that sambar were not aware I didn't try to photograph them from 'In-Close', even though this is how photographs showing the finest details of the head etc. are obtained.
The problem is that you only get to take one or two bursts before they are aware of you and they are gone. Even if you catch up with them again later that day, you have changed their behaviour so you are not observing what sambar naturally do all day.
2000 - 2003 Full Time Hunting Guide for Sambar and other Cervidae
I resigned from VicPol in 1999 and began guiding in May 2000.
Forest in the area where I began guiding Sambar hunters was so thick that it was impossible to see from one face to another. I guided exclusively in this densely forested area for three years.
During the first year I primarily tried walking-them-up - but as I point out later - this strategy proved to be extremely unsuccessful. So in 2001, I began to develop 'In- Close' ambush tactics. During the following three years whilst guiding in this dense forest, I continued to refine and improve these tactics. But in addition, I found another area where face to face hunting was possible, and several clients harvested trophy stags with cross gully shots. I then set about refining and improving this method - especially 'how to set up for, and take the shot.'
At that time my skill set - whilst still in its infancy, especially in respect of sambar behaviour - was sufficiently developed for me to successfully guide hunters to several trophy sambar stags and hinds for venison, plus fallow and hog deer in my first year, and many more in the following years.
Commencement of Lynne's Fine Food Cafe
For years Lynne had a burning desire to run a café so in February 2004 we rented an empty factory and set one up from scratch - precisely how Lynne envisaged it would be. I was the barista and general gofer and within a few months we had created a thriving business. Due to my busy important role in the café, during 2004 and 2005 I restricted my guiding to a few hunts per year. Lynne cooked virtually everything we sold. She worked so hard to meet the demand of a huge amount of catering, take away, and sit down customers. She produced so much delicious food it was almost unbelievable. Just watching her work was exhausting. Two years after she opened her café, she was well and truly burnt out, so in May 2006 she sold it.
In late 2004 Public Liability Insurance increased from $1,500 per year to $4,800. I paid it for 2005 but when it was up for renewal in March 2006 I ceased guiding altogether. The current PLI annual fee is $7000, so despite many requests by hunters to guide them I have refused. Note that it is irrelevant if the hunter being guided has $20,000 PLI included in the annual membership fee of SSAA, ADA or other hunting organisation. This fact does not protect a guide from being sued if something happens to the hunter, or the hunter kills or wounds another hunter, or he is critically injured in some other way such as by falling down a mine shaft or a cliff face or is impaled by a wounded stag. Don't laugh. Several Sambar hunters I know have barely escaped being impaled by a wounded stag which charged them.
Observing Sambar That Had No Idea I was Present
In September 2007 we moved to Tongio West where we lived in the bush. Our new home provided vantage points over much of the surrounding forest in which I was able to observe and photograph Sambar almost every day for the two years that we lived there.
My aim was to observe, photograph and video their 'natural behaviour' from first light until dark, day after day, week after week month after month, year after year so I had to ensure that they didn't became aware of my presence.
To ensure this, I mostly observed them across gully from 200 to 500 yards. At that time in 2007 I had just purchased the new Nikon D3 body which had a 12 megapixel sensor. It was attached to my Nikon 400 f2.8 lens and equipped with a 2x tele converter which doubled its focal length from 400 to 800mm. However the TC reduced image quality to an unacceptable degree, so the instant Nikon released a true 800mm f5.6 lens in 2016 - despite its retail price of $27,500, and weight of 4.6kg, I bit the bullet and bought one. I have never looked back. The image quality I have obtained from this lens is outstanding. In 2010 we sold our Tongio West home and purchased another on 5 acres near Bairnsdale. At the same time we purchased the 520 acre steep, forested mountain property opposite our Tongio West home where I had observed sambar most days during the two years we lived there. In 2011, we began to operate our Hunt Smart Training Course from there. By that time I had progressed to the far superior Nikon D3s. It had a 12 megapixel sensor but it was much superior to the D3, especially in low light. However you had to be relatively close as images couldn't be enlarged greatly before they began to pixilate.
So I could photograph them from 100m and less, I built a hide which concealed my body, movement of my hands and the large 400mm f2.8 lens, plus it contained my scent and the sound of the camera shutter. Regardless of how many photos I took, Sambar never knew that I was just 100 metres away.
At the time of writing in 2023, I am still operating our Hunt Smart Training Course from there. The first of 8 courses for 2023 which commences May 5th is booked out.
By that time Nikon had produced the D750 which had a 24 mega pixel sensor and took 4K video. The D750 was good in low light - but not nearly as good as the D3s - but the D500 which was awesome in good light. The 800mm lens was a game changer and most of the photos of sambar which appear in 'The Hunt Smart System' book were taken with this lens.
In mid-2022 I upgraded to Nikons new mirrorless Z6ii camera - and in late 2022, I added the ground breaking Z9 body and the new Nikon 800 f6.3 lens which is designed for the mirrorless range of bodies. It weighs just 2340gm - half the weight of the 4.6kg 800mm f5.6. These mirrorless cameras are far superior to DSLRs for capturing video and in this regard they are a game changer.
Secrets of the Sambar Column in Guns & Game magazine
In 1996 I commenced my extremely popular 'Secrets of the Sambar' column in Guns & Game magazine and over the next 14 years I wrote four articles per year for a total of 50 articles.
Aldo Leopold and 'A Sand County Almanac
After being introduced to A Sand County Almanac (Aldo Leopold 1949) by my mentor, and wonderful friend, the late Arthur Bentley, I quickly became an Aldo Leopold fan and read everything by or about him. Leopold was a forester, a hunter and a conservationist and perhaps above all else, a great philosopher regarding hunting and conservation.
Whilst visiting the US in 1989, I purchased a commemorative edition of this classic. In mid-1992, at my send off from my scholarship at the AIC Canberra, I presented a copy to the AIC Chair, Professor Duncan Chappell. I pointed out that in my opinion this book was essential reading for researchers as it would enable them to acquire a holistic understanding of the requirements of firearm management in Australia.
Whilst at the AIC Canberra, I purchased 100 copies of A Sand County Almanac, hard cover commemorative edition from Academic Remainders for the bargain price of $6 each, and delivered them to my friend Arthur Bentley, who was Chairman of the ADRF. Arthur duly added them to the ADRF retail book list for sale to ADA members and the public.
Meeting Larry Marchinton, Professor of Wildlife Biology at the University of Georgia, USAIn 1989 I met Larry Marchinton a deer biologist from South Carolina USA at the Bunyip enclosure. Meeting Larry proved to be a life-changing moment for me.
After telling Larry of my desire to study sambar and eventually write a book about sambar, he advised me to subscribe to Deer & Deer Hunting magazine which I did for the next 12 years or so. This magazine was first published in 1997 by hunting companions - Jack Brauer and Al Hofacker - who were members of a northern Wisconsin deer hunting camp called the 'stump-sitters' - so named because in the days before tree stands - they often sat on tree stumps.
On his return to the USA, Larry mailed me a pile of scientific reports regarding research into deer in North America, in particular research conducted at the University of Georgia where he was a Professor of Wildlife Biology. Later I purchased several books which Larry co-authored with several other wildlife biologists. One book was titled simply 'Deer' - the other 'Ecology of Sambar Deer on St. Vincent National Wildlife Refuges, Florida.' This research included a comparative study between sambar and white-tailed deer which also occupied this island.
Membership of Quality Deer Management Association of America (QDMA)
From 1993-1997, one of Larry's students, Brian Murphy travelled to Tasmania where he was appointed Project Officer of Tasmanian Deer Advisory Committee Inc. private property based, Fallow Deer Project which has been a great success and continues to be to this day.
On his return to the USA, Brian was appointed CEO of the Quality Deer Management Association of America (QDMA) - a position he held for approx. two decades. In 1989 I had become a member of QDMA and during his lengthy membership, received its highly educational quarterly journal - Quality Whitetails - and I purchased many of the highly educational books that the association sold.
Research by Massey University, Palmerston North New Zealand
As my study progressed I discovered that Massey University in Palmerston North New Zealand had been conducting intensive research into sambar biology, ecology and behaviour to assess this species suitability for New Zealand's well established deer farming industry. I contacted Professor Tom Barry who sent me many research papers which further increased my knowledge of sambar. A comparative study between aspects of red deer and sambar was of particular interest to me. This research was conducted by Gono Semiadi for his thesis. Its title is: The Domestication and Nutrition of Sambar Deer (Cervus unicolor: A comparative Study With Red Deer (Cervus elaphus).
October 1st 1999 - Resigned from VicPol and Moved to Bairnsdale
For at least 2 years beginning from about 1997, Lynne had been trying to talk me into leaving VicPol. But at that time I didn't feel financially able to leave a secure, reasonably well paid career to drop to zero income and start a new business venture from scratch. I had to wait until our finances could enable such a brave move.
Finally when I was almost 47, and dissatisfied with being restricted to studying Sambar for just one or two days a week, I agreed to resign, but only on the condition that Lynne was prepared to move to Bairnsdale to live. This was huge move for a woman who had lived her entire 47 years in Melbourne. But she always saw herself as a country girl and firmly believed that that was where she belonged. Her parents and her aunties and uncles and her grandmother had all been raised in the country, but the need for work forced her parents to move to Melbourne's eastern suburbs for work. So, without the slightest hesitation she enthusiastically agreed.
So on Oct 1st 1999 after 27 years with the force - I resigned my position of 'Inspector - Patrol Officer' in Region 1, and moved Lynne and Daisy - who was just 7 months at the time - to a new and wonderful adventure in Bairnsdale - a move we have not regretted - not for one moment. East Gippsland is literally paradise on earth. Now Lynne refuses to go to Melbourne - even for a day trip on the train. She hates the place. Daisy returned when she was 18 to attend the National Academy of Beauty in Flinders Street where she underwent a 12 month full time course. Daisy is now gainfully employed in the beauty business working from home. She loves Bairnsdale, has made wonderful friends here and has fallen for a local boy from a local family. How good is that? Daisy turns 24 tomorrow, the 27th February 2023.
May 2000 Began Fully Guided 'Sambar Shikars'.
As described earlier - between 1990 and 1999 I first began my 'search for the truth' whilst observing and photographing captive sambar of 'known age' in the Bunyip enclosure and wild sambar in the Bunyip State Park which surrounded the enclosure. To a much lesser extent I also studied 'known age' sambar in the 'Pendleside' enclosure.
Commencing in May 2000 I guided hunters mostly for sambar - but during the months of March and April for fallow and hog deer as well - and continued my 'Search for the Truth' about Sambar, biology, ecology, behaviour, and the most effective strategies for hunting these elusive Big Brown Deer.
The opportunity to fully guide sambar hunters full time was a wonderful opportunity to take my study of free ranging sambar to an entirely new level and as I soon discovered - my learning curve increased exponentially.
I guided in East Gippsland's High Country - mainly in the Ensay, Omeo and Benambra districts - and mostly for sambar. During my Sambar Shikars' which were of 5 day duration, I employed the same high level investigative skills developed and used over 27 years to 'Search for, and Ascertain the Truth' about the perpetrators of crimes, to 'Search for and Ascertain the Truth' about Sambar, biology, ecology, behaviour and the most effective strategies for hunting these elusive Big Brown Deer. My police training and experience taught me to never jump to conclusions regarding the truth about sambar behaviour. Before I would conclude that sambar possess a particular behaviour which has a reasonably high degree of predictability, I had to observe it over and over again, many times in very similar conditions. And then when the conditions were the same, I checked over and over again to see if sambar were where I believed they shouldn't have been in these conditions.
Unfortunately during my guiding days from 2000 to 2004, I hadn't yet developed the high level of knowledge which I possessed at the time I began writing The Hunt Smart System book in late 2017 and throughout 2018. Identifying and understanding 'all the pieces of the jig saw of sambar behaviour' was still a work in progress and as a result - everything else being equal - whilst I was very successful - I was not as successful guiding for Sambar as I could be now that I am armed with the huge amount of knowledge which I obtained during the additional 12 years of intense study.
Guiding International Hunters at 'Watervalley' Game Ranch
To remain financially viable it was necessary to guide international hunters from Germany and the USA whose main interest was going to 'Watervalley' - a 300,000 acre game ranch near Kingston in S.A. where they could collect multiple species of Cervidae in 5 days hunting, and even an Asiatic Water Buffalo.
Although I didn't regard this as hunting and saw my role as a glorified slaughterman - it was - nevertheless an exciting and highly educational experience to observe so many species of Cervidae including large herds of Red deer, Rusa and Fallow. Sambar were scarce and with a few exceptions, the only ones I saw were in a paddock on the right side of the drive into the homestead. When my client pointed a rifle at them they were shocked and responded with: 'Don't shoot. I'm a pet. I just got off the truck from Lyle Murrays deer farm. Look, you can see the hole where my ear tag was. Don't shoot, don't shoot.'
I guided two groups of German hunters who I developed the greatest admiration for. The first included Ralf Kober - a forest manager/part time taxidermist; the second comprised his friend Bent Zieglar and his father Karl, who was also a forest manager. All four were graduates of the comprehensive West German Hunter Education program which I was introduced to during my 3 week visit to Bavaria in 1989. All four were an absolute pleasure to be with. A photo of Bent Zieglar hunting in snow in Victoria's high country can be seen at p. 256 of The Hunt Smart System book.
Many Strongly Held Beliefs About Sambar Were In Fact Incorrect
As my study progressed, slowly but surely, I discovered that many of the strongly held beliefs regarding sambar behaviour were in fact, incorrect and as a result misleading. I also concluded that these tough tenacious Big Brown Deer could be killed cleanly with one shot using standard, non-magnum calibres.
Between 1990 and 1999 whilst observing and photographing sambar in the Bunyip enclosure and in the surrounding Bunyip State Park, I began to realise that the Sambar's senses and anti-predator strategies are extremely highly developed.
It was then and only then that I also realised that the reason for many hunters believing that magnum calibres were necessary was due to attempting to 'walk-them-up' which was the most commonly used hunting method at that time.
Over the years through direct observation of unalarmed deer, I have discovered that typically by the time the sun has been up for an hour, sambar are already in their beds. Although they are resting and ruminating, and may even doze off for up to a minute or so, they are constantly alert to the slightest indication that a predator is near.
And it's at this time of day that most hunters of that era began their daily hunt. So by constantly walking so as to cover as much country as possible, the deer were always aware of them - well before they were aware of deer. As a consequence - the instant the hunter ventured into its 'flight zone', the deer exploded away leaving the hunter with one of two choices. One - to pass up the shot due to the high risk of wounding and not being able to recover it - or, two, take a quick shot at rapidly departing ginger hams. Because it was almost impossible to take a well-aimed killing shot - as a result - regardless of the muzzle energy of the rifle used - many escaped wounded.
Instead of blaming his inappropriate hunting method, the hunter concluded that the calibre used was inadequate for these big, tough, tenacious deer, so he traded it for a more powerful calibre. During the eighties and nineties I heard this story over and over again. But some also claimed that they sometimes covered 10 to 20 kilometres in a day. If the distance was accurate - which I doubt - the hunter would have been moving so fast and therefore making so much noise, that he wouldn't have been aware of the deer because they would have moved off well ahead of him.
A very fit fellow who attended my training course told me that he usually walked close to 20 kilometres a day whilst hunting and never saw deer. Immediately after the course he hunted the same area and shot at his first stag from 60 metres as it walked past him broadside, completely unaware of him. Despite using a .375 H&H and 280gn Berger bullets, the stag escaped wounded. Why? Because he failed to do what I emphasise over and over on my course. You must make them stop for the shot which is so easy to do.
He didn't make it stop, and, like most rifle shooters, he didn't continue to follow through during the second or so that it took for the signal to go from his brain to his trigger finger and he squeezed the trigger. In that second or so the deer had walked forward far enough for the point of aim to change from in-line with the middle of the front leg to behind the diaphragm, instead of forward of it. The result being that instead of the lungs, shoulder blade etc. being destroyed, the projectile buried itself in the rumen, and the deer escaped giving zero indication that it had been hit. Gut-shot deer always travel a long way plus they almost never leave any blood - let alone a continuous blood trail - so despite days of searching, these deer are never seen again. I know this is a common scenario because many hunters who have gut-shot sambar have phoned me for help which I have given, and I always phone them a few days or a week or so later to see if they recovered the deer. Unfortunately not one hunter has recovered the deer.
When this hunter told me the story I reminded him that he MUST make them stop for the shot, and reminded him of the simple easy way to do this. Two weekends later a stag walked broadside to him 60 yards away. He aimed and then made it stop then killed it instantly with a shot to the high shoulder blade spine which completely destroyed at least one shoulder blade but also the lungs. Although sit and wait strategies are much more effective than walking-them-up, to be able to employ this strategy with consistent success requires intimate knowledge of sambar behaviour - as a hunter cannot just wait anywhere. He must know precisely when and where to wait and how to set up a ground hide or tree stand.
A hunter must first acquire a thorough understanding of the quarries behaviour - behaviour which sambar will - if necessary - change daily to adapt to changes in the weather and hunting pressure of that day, for like all species, they ensure that they are always as comfortable and as secure as possible. Once a hunter has acquired this knowledge, if he then applies it to walking-them-up, he greatly increases his chance of success whilst employing this much more difficult method. The reason is that this knowledge enables him to pinpoint where the deer are most likely to be in the weather conditions of that day. To do this, at first light a hunter checks the temperature and other weather conditions for that day, then apply the relevant overlays which are described in detail in 'The Hunt Smart System' book. By applying multiple overlays he is able to narrow down where the deer will most likely be to just 10 per cent of the total forest, and then plan his hunt accordingly.
Many Hunt Smart Course participants have used this knowledge to successfully stalk in close to sambar that had no idea they were present and kill stags whilst they were in their beds. Just two days after attending our training course, Justin Scott of Mickleham Vic. Stalked in on an unalarmed stag that had no idea he was there and killed it whilst it lay in its bed with a single shot. Similarly - shortly after attending our course - Cameron Tull of Whitfield, Vic. stalked in on a Sambar stag as it lay ruminating peacefully in its bed. Cameron sat down and watched it until it stood to stretch, then killed it with a single shot from just 80 yards.
Our 464 page, A4 format, full colour hard cover book 'The Hunt Smart System' and our 3 day Hunt Smart Training Course teach you everything you need to know so you can also be as successful as Justin, Cameron and countless others. More than 70 Success Stories sent to us by past course participants and readers of our book The Hunt Smart System are listed on our website, www.sambardeer.com
Presentation Given to Hunting Clubs
Over the past two decades I have given 3 hour long presentations on sambar behaviour to the following ADA branches:
East Gippsland - 3 presentations
Melbourne - 3 presentations
Westernport - 3 presentations
Murray Valley Albury - 3 presentations
ACT Canberra - 1 presentation
SSAA Deerstalkers Springvale - 1 presentation
In 2006 I also ran a special two day training course for approx. 30 Game Council NSW R licence holders near Corryong in the Upper Murray Valley. Ron Conrad, who attended this course was successful a day or so later. See his Training Course Success Story # 10. Approx. ten Game Council NSW field officers have also attended my Hunt Smart course.
In 2006 I was key note speaker at the then Game Council NSW inaugural Sambar Deer Hunter 2 day Workshop held at Bondi NSW. The 70 positions available were quickly snapped up. Many of those who attended had come to know me through the 30 articles I had already written by that time for my 'Secrets of the Sambar' column in Guns & Game magazine. I went on to write a total of 50 articles for my column over 14 years, before commencing our Secrets of the Sambar and other Cervidae magazine in 2012.
During breaks in my presentation, many of those in attendance at the workshop approached me about writing a book about sambar. They insisted that they wanted a full colour, A4 format, hard cover book. They didn't want an A5 with a few pages of colour plates in the middle, and the rest black and white. I said that a book of that quality would have to sell for at least $100. '$100', came the shocked reply. 'Errol $100 is nothing. It costs me $120 to fill my truck. I don't care what it costs. I just want your knowledge.'
I had been working steadily on such a book since 1989, from the moment I purchased my first professional SLR camera - a Nikon F3 and a 300 f4.5 IF ED lens - but I was suddenly spurred into action by this passionate plea so I worked on it around the clock, and by 6th December that year (2006) the first edition hit the bookshops.
The response literally blew Lynne and I away for within a few weeks 600 copies had sold, so we increased the price to $120 - the minimum it needed to be if we were to make even a small profit. In 2012, I slightly revised the text, replaced any less than perfect photos with far superiors ones, then Lynne completely redesigned it, and it was reprinted again. In 2020 it was reprinted again.
In 2008, so I could speed up my learning curve on Sambar behaviour, Lynne, Daisy and I moved to Stockyard Track, Tongio West where I was able to observe and photograph unalarmed sambar virtually every day of the week. It also made running training courses much easier, and in the first year we ran 12 and in the second year we ran 20 - one almost every week from late April to early October.
As I discovered and thoroughly understood each part of the large sambar jigsaw, Lynne and I published this knowledge in our 'Secrets of the Sambar Trilogy', whilst simultaneously passing it on to students at our Hunt Smart Training Courses.
As each year ticked by, I acquired a deeper and deeper understanding of sambar behaviour, and with huge improvements in DSLRs and lenses, I was able to take a huge number of photographs of the highest quality and 4K video which depicted their behaviour.
Finally - 29 years after I first commenced to study sambar - first part -time for 10 years - then full time for 19 years, satisfied that my conclusions were correct; I stopped our magazine so I could begin to write The Hunt Smart System book. I ensured that it was written in a straight forward, concise, logical, funnelled flow of knowledge which was easy to read and understand. When it wasn't, my excellent editor my wife Lynne told me so: 'Earl - this is too hard to understand. You need to rewrite it' OR - 'Earl, I don't know anything about sambar and I don't have any idea what you mean here, so new sambar hunters won't know either so you need to clarify what you mean.'
I left no stone unturned to ensure that 'The Hunt Smart System' book would be the best it could possibly be. So on February 2nd 2018 I embarked on a 2.5 hour helicopter flight with Mansfield Helicopters over Victoria's vast forested mountain sambar range, including the Wonnangatta and Howitt High Plains in the sub-alpine. Many of the photos taken illustrate 'The Hunt Smart System' book, including the chapter 'The Subalpine.'
Then, just 18 days later on February 20 I arrived at Delhi Airport in India where my host Gobind's driver collected me and conveyed to a Forest Compound in Alwar from where I commenced the first of my 14 Day Safaris in the Jungles of India.
During these 14 days I was on exciting morning and evening Safaris in open topped Suzuki Gipsy jeeps which carried me deep into the forest, right amongst the wildlife - first in Sariska Tiger Reserve near Alwar, then Ranthambhore N.P. near Sawai Madhopur, and last - but definitely not least - in Nagarhole N.P. at Kabini in the south of India.
Not only was this an incredible experience but it was also a unique education regarding predator prey relationships, and the behaviour of sambar and countless other species. Being able to photograph tigers, leopards and large sambar stags was a highlight, and many of these photos illustrate The Hunt Smart System book.
Then - satisfied that I had covered every base I gave Lynne my mere words and photos and she worked her magic and turned them into a true 'work of art.'
Finally in January 2019, SOTS - The Hunt Smart System book was released, and the more than 500 pre-paid copies - most of which had been paid in full more than a year earlier - were signed, packed and posted to eagerly awaiting recipients.
At the time of writing in March 2023 - 4 years after its release - The Hunt Smart System book is still selling strongly.