NEW BOOK by Errol Mason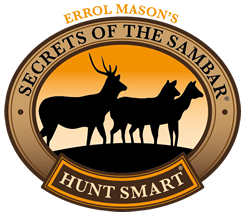 Secrets of the Sambar
'The Hunt Smart System'
---
The Limited Edition Numbered Version is SOLD OUT! However, other identical hard cover, full colour copies are available.
All 333 Limited Edition Subscriber Copies of our new book, Secrets of the Sambar - THE HUNT SMART SYSTEM, have now been SOLD. An additional 150 copies have also been sold. A limited number of this volume will be printed. To secure your copy pay the full amount of $249.00.
$249.00
Please choose the full cost, deposit or balance payment from the dropdown. See below for purchase option details
---
'The Hunt Smart System'
by Errol Mason
Released January 4th 2019. $249.00 including postage in Australia.
This book is the culmination of almost forty years studying Sambar.
My new book 'The Hunt Smart System' is an A to Z blueprint for successfully hunting these Big Brown Deer. It is presented in chronological order just as I teach it on my Hunt Smart® course.
Purchase Options
*Postage within Australia and GST are included in the indicated price. If you require postage to a different country please contact us and we will quote you postage.
ONLINE - You can pay with Credit Card online. Click the add to cart button to pay via credit card (Mastercard or VISA).
OFFLINE - You can pay via Direct Deposit (bank transfer) or send a Cheque or Australia Post Money Order. Note: Direct Deposit is our preferred payment method and helps us to keep costs down. Click the add to cart button and select 'Offline Payment' at the checkout and you will be able to choose 'Direct Deposit' or 'Cheque/Money Order'.
NON-SPECIFIED AMOUNT PAYMENTS - You can make a payment for a non-specified amount here - Click to make a non-specified amount payment
DUST JACKET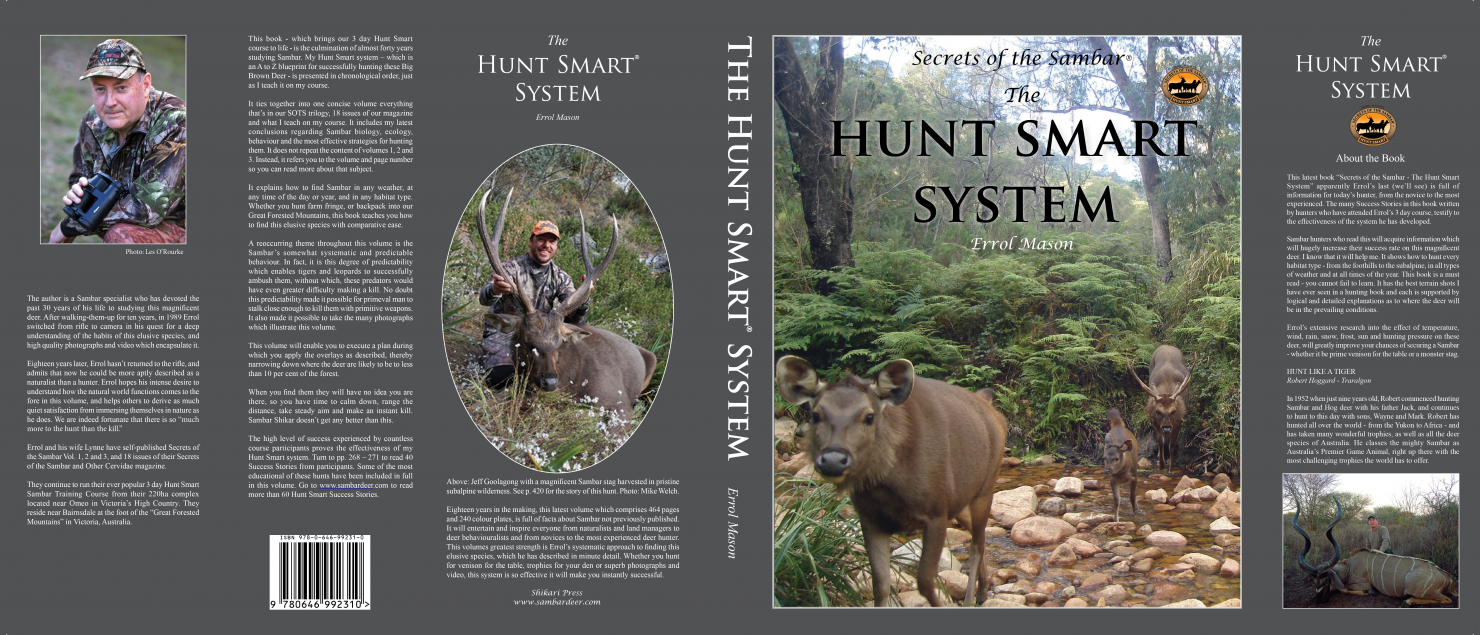 Click to Zoom
Download HI RES PDF of Dust Jacket
Take a Look Inside 'The Hunt Smart System'
View detailed pages from inside
'The Hunt Smart System'
ABOUT THE BOOK
This book is the culmination of almost forty years studying Sambar.
My new book 'The Hunt Smart System' is an A to Z blueprint for successfully hunting these Big Brown Deer. It is presented in chronological order just as I teach it on my Hunt Smart® course.
It brings together into one succinct book the most important information from our SOTS trilogy, 18 issues of our magazine and what I teach on my course, including my latest conclusions and a lot more that I do not have time to teach on the course.
The high level of success experienced by countless participants after attending our course proves that my Hunt Smart system is highly effective. You can read over 60 Success Stories from course participants on this website. Summaries of many of these stories have been included to prove the effectiveness of the tactics that I recommend.
This book does not repeat the content of Vol 1, 2 & 3. Instead I refer you to the Volume and page number so you can read more about the subject I am discussing. This new book includes all my latest conclusions about Sambar biology, ecology, behaviour and the most effective strategies for hunting them.
This knowledge will enable you to develop a plan, apply the overlays as taught which narrow down where the deer are likely to be to less than 10% of the forest. And there they are. Suddenly you have all the time in the world. You calm down, range the distance, take steady aim and make an instant one shot kill.
Sambar Shikar doesn't get any better than this.
No expense has been spared in the production of this book as we were determined to make it the best it could possibly be. I took a 2.5hr helicopter flight over the High Country and the Sub-alpine, plus I spent an incredible 14 days in the Indian Jungle. During these amazing trips I took countless highly educational photographs and made numerous observations of these Big Brown Deer. The most educational and inspirational of these have been included in this book.
Full colour
Hard cover
464 pages
240 colour plates
50 plates have an instructional overlay
Purchase Options
You can purchase the book for yourself or as a gift for someone else. See the gift certificate section on this page for details about purchasing as a gift.
For credit card purchase choose 'full payment' above where it says 'add to cart' and then follow the checkout process.
We also accept cheques or money orders and direct deposits using the following details:
E & L Mason BSB: 704230 Account Number: 100316245
Don't forget to reference your payment with your name and email us your postal address.
Book Reviews - 'The Hunt Smart System'
Review 1 by Dick Power
The author, Errol Mason, is well known in sambar hunting circles as a hunter, guide and prodigious writer on all subjects relating to these magnificent deer. As an educator, and a man with a bent for chronological and forensic examination of the facts, and the facts only, it follows that he is a fairly intense individual - this is the cornerstone of his style, his narrative is direct and to the point. However, one of the outstanding successes of this book is the manner in which it is written; throughout the chapters he creates a matrix of sound practical knowledge straight out of the bush. Solid facts become overlays that are presented to the reader in a well-constructed and flowing style - this in effect takes the mystery out of a most difficult subject.
I have been involved in hunting and photographing sambar deer for over fifty years, and during every one of those years I have continually sought to know and understand more, and I remain convinced that knowledge is the real trophy. Here is the manuscript of knowledge, all 460 pages of it, specifically written for the new and intermediate sambar hunter. Errol sets out to explain that sambar deer have predictable habits and patterns of behaviour, and explores the whys and wherefores behind this predictability - they are not, as often described, ghosts. Every conceivable aspect of hunting sambar is included in the written word, and further supported with photos and precise visual displays - nothing is left out.
The content is wonderfully broad based, and includes a comprehensive cross section of experienced sambar hunters' personal observations, which in effect rounds out and balances the content, and underwrites the quality and authenticity of the huge amount of information supplied by the author. Errol very successfully blends the above with his own life long experiences, thoughts and observations and skilfully weaves them into the Hunt Smart System.
This book is, and will remain, the go to reference on sambar hunting, and it is very unlikely that any other writer could, or would, spend the time and effort that is required to produce such a product. It is lavishly illustrated with high quality photos provided by Errol and other sambar 'tragics', and the magnificent design and graphic illustrations greatly enhance the commentary and observations made.
Is a photo, and the manner in which it is displayed, worth a thousand words? Open the pages and I am sure you will agree that it is. The book exudes quality, and the graphic artistry, design and presentation is of course the hallmark of Errol's highly talented wife Lynne. Being that I come from 'back in the day', I have seen a lot of books and magazines, there are none that match, or exceed, the professionalism of Lynne Mason's work.
This book is the work of a sambar man, a man of the cloth, and it is and will always remain a classic. To all the seekers of knowledge and understanding, this is your book, and it is highly recommended.
---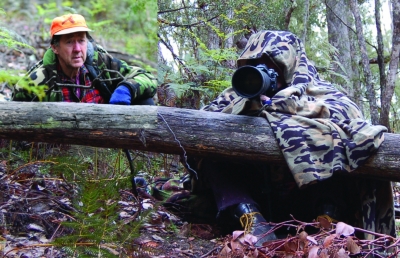 About Dick Power
Dick Power has been hunting Sambar and the World's Big Game – many stories about which appeared in our magazine - for at least 50 years. Dick has devoted the past 15 or so to photographing sambar and is well known for his superb "up close and personal" photographs, many of which enhanced our magazine and which enhance this book. It isn't going too far to describe Dick as "The Master of in Close."
More Book Reviews
Review 2 by Jimmy Lay
When tasked with writing a review on Errol's latest book "The Hunt Smart System" I was a little overwhelmed. How could I possibly write a review of a study that has required thousands of hours of observation and meticulous research over many years?
The first thing that stood out was that it was an easy read. Errol's Hunt Smart tactics and concepts were explained in detail and reaffirmed over many chapters. They are backed up by high quality photographs and graphical overlays which thoroughly explain the point being made.
The Hunt Smart System begins by explaining some of the inherent characteristics of sambar such as how evolution and constant predation over time has shaped their behaviour and caused them to be so finely tuned to our presence and our approach.
A wide variety of topics are covered which include how to identify prime sambar habitat, bedding areas, home range, hunting big stags and the key factors that influence their location in various weather conditions and habitats.
Errol's system is laid out so each subject builds on the reader's knowledge in a logical order so that you can easily understand how you would apply these concepts and strategies for greater success.
Errol's unique theory "The Wagon Wheel - Road Map of Sambar Movement" is explained in great detail. This "map of sambar movement" gives you a clear insight into how they traverse through their home range and how hunters can take advantage of this systematic pattern of movement.
Their affinity to particular trees and geographical features such as funnels is covered in detail. The sambar's behaviour leading up to, during, and after extreme weather, and their predictable response to extreme weather is thoroughly explained.
Lynne has spent a huge amount of time graphically overlaying numerous aerial and panoramic photographs with markers which show "the road map", bedding and feeding areas, game trails and zones of silence and countless other features of sambar behaviour. Various hunting scenarios are explained by markers overlaid on wide angle photographs. They are enhanced further by the placement of a compass which leaves the reader in no doubt as to where a particular reference point or a deer may be in relation to the sun.
Each overlay is explained further by a "Success Story" written by a hunter who used "The Hunt Smart System" to take a fine trophy sambar stag.
Errol and Lynne's latest publication is extremely informative and presented in a logical and easily understood format which slowly but surely builds the readers knowledge of a proven and highly effective hunting strategy.
It has enabled me to fill in the gaps to a number of mysterious aspects of sambar behaviour that I have often witnessed but never clearly understood. I will be taking advantage of this new found knowledge and look forward to applying Errol's system in the years to come.
I highly recommend "The Hunt Smart System" to both new and experienced hunters alike as it provides knowledge which is essential if you are to be able to consistently harvest these Big Brown Deer! Quite simply, if you want to thoroughly understand sambar, this book is a must have.
Good hunting,
Jimmy Lay
---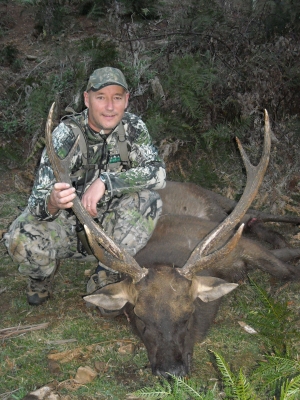 About Jimmy Lay
Jimmy Lay has been a passionate and highly successful Sambar hunter for more than 40 years, but like all good hunters, he is still searching for a better understanding of these Big Brown Deer.
Jimmy has taken numerous trophy sambar stags, plus he has guided his friends and other hunters to many more. Jimmy co-produced the highly regarded DVD's "A Hunter's Guide to Sambar Deer" Vol. 1 & 2. (Click here to view the DVD's)
---
Review 3 by Adam Davis
Hi Errol,
I just wanted to pass on my thanks for providing yet another top class publication on hunting these Big Brown Deer. I am thoroughly enjoying reading 'Secrets of the Sambar - The Hunt Smart System'! I have previously completed your course, read SOTS Volumes 1 - 3 and been a subscriber to your magazines. Not only has the new book been an excellent refresher for what I have learned in previous years, it is tying everything together in one very neat book with very high quality photography. The use of photos as visual aids throughout the book, assist in so many ways that words simply do not allow.
The Hunt Smart System really has been an eye opener for me. Being able to observe Sambar without them ever being alerted to my presence has been an incredible experience. It has opened up a whole new range of possibilities and better yet, as a predominately meat hunter, I can calmly choose which animals I want to harvest.
I believe that I will be learning about these magnificent deer for the rest of my life, but armed with the extensive knowledge I have taken from The Hunt Smart System, I know that I have the tools needed to build upon an extensive foundation.
Thanks again Errol!
Regards, Adam Davis.
---
Review 4 by Neil Hair
Hi Errol and Lynne, you have out done yourselves this time.
I didn't think there would ever be a book on Sambar to match your Secrets of Sambar Volumes 1, 2 & 3. Well your new book - The Hunt Smart System - does just that and more. It is the most informative and well researched publication I have ever read on any subject.
I can say to anyone that hunts Sambar - or is thinking of hunting Sambar - this book is a must read. As the title suggests, we can all hunt smarter and that is why I also believe in a system based approach to hunting.
This new book is not only the best and most informative book on hunting Sambar I have ever read, it is by far the best book I have read on hunting any species of deer as most of the information in it is can be used to hunt Fallow, Red, Elk, Hog, Roe, White-tailed, Moose, in fact any species you care to mention.
The quality of the photos and the design is simply first class. It really is second to none. The way the book is laid out will give all hunters - from beginners to veterans - a thorough understanding of Sambar behaviour.
The way you have shown how Sambar relate to their environment is unique and quite remarkable. The overlays and the linking of the many outstanding photos is revolutionary and it is a feature that works incredibly well, making the book flow smoothly, easy to follow and a pleasure to read. This format only works because the Hunt Smart System is backed up with extensive research coupled with great photos and countless hours of observations of unalarmed Sambar in the wild.
It is just a great book and a must have for any hunter that pursues not only Sambar, but any deer in Australia. The Hunt Smart system will assist all hunters young and old as it explains how deer relate to their habitat. This is paramount because if you have a better understanding of the deer's behaviour then you can get to where they are going - not where they have been - but most importantly, be there before the deer arrives.
It is impossible to summarise the huge amount of soundly researched information in this book, but I will say it is a book I am using now and will use into the future to help me try and work out what happened, why it happened and how to better outsmart Sambar. Once again a huge congratulations to the Team @ Secrets of the Sambar. Errol and Lynne you have produced something very special with your latest book and you should be extremely proud.
Cheers,
Neil Hair
---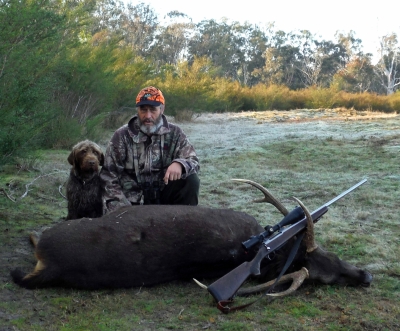 About Neil Hair
Neil Hair, who contributed several educational articles to our SOTS magazine, has been a passionate and highly successful Sambar hunter for more than 40 years. Even after all this time Neil continues to search for a better understanding of these Big Brown Deer. Whilst Neil hunts mainly for venison, he has taken numerous trophy sambar stags - the highly educational stories as to how he harvested two of these have been included in this book.
---