NEW BOOK by Errol Mason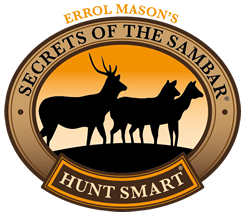 Secrets of the Sambar
'The Hunt Smart System'
---
The Limited Edition Numbered Version is SOLD OUT!
All 333 Limited Edition Subscriber Copies of our new book, Secrets of the Sambar - THE HUNT SMART SYSTEM, have now been SOLD. An additional 150 copies have also been sold. A limited number of this volume will be printed. To secure your copy pay the full amount of $249.00.
$249.00
Please choose the full cost, deposit or balance payment from the dropdown. See below for purchase option details
---
'The Hunt Smart System'
by Errol Mason
Due for release January 15th 2019. $249.00 including postage in Australia.
Our new Hunt Smart book was advertised as being 320 to 400 pages. However it grew to 464 pages so it took us longer to complete. Nevertheless it's at the printer who has advised that we will receive the books on or about 15th January 2019. The moment we do we will post them.
DUST JACKET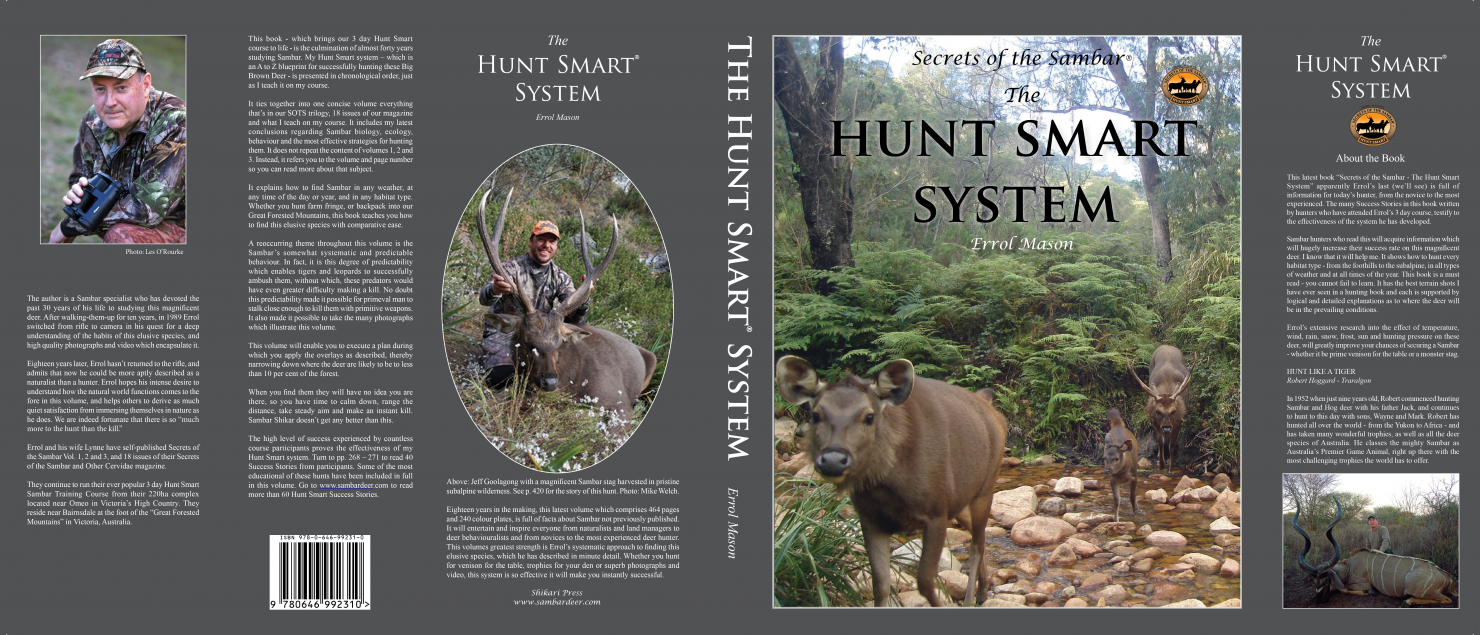 Click to Zoom
Purchase Options
*Postage within Australia and GST are included in the indicated price. If you require postage to a different country please contact us and we will quote you postage.
ONLINE - You can pay with Credit Card online. Click the add to cart button to pay via credit card (Mastercard or VISA).
OFFLINE - You can pay via Direct Deposit (bank transfer) or send a Cheque or Australia Post Money Order. Note: Direct Deposit is our preferred payment method and helps us to keep costs down. Click the add to cart button and select 'Offline Payment' at the checkout and you will be able to choose 'Direct Deposit' or 'Cheque/Money Order'.
NON-SPECIFIED AMOUNT PAYMENTS - You can make a payment for a non-specified amount here - Click to make a non-specified amount payment
Gift Certificate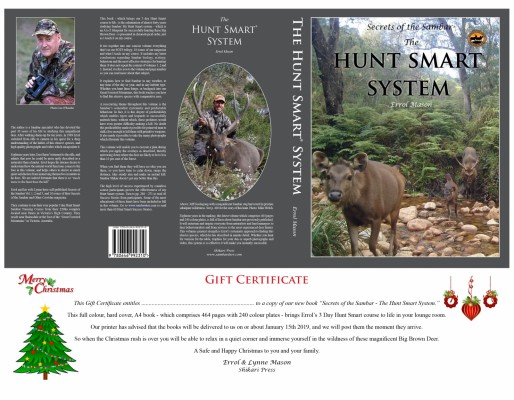 ---
When you purchase our new book prior to Christmas we will post you the "Gift Certificate" as shown above, and we will post the book to you or the recipient on or about January 15th 2019. Copies will be signed by the author. When you purchase please make a note that your purchase is a gift and include details of the person it is for and where you would like the book posted.
Take a Look Inside 'The Hunt Smart System'
View detailed pages from inside 'The Hunt Smart System'
ABOUT THE BOOK
This book is the culmination of almost forty years studying Sambar.
My new book 'The Hunt Smart System' is an A to Z blueprint for successfully hunting these Big Brown Deer. It is presented in chronological order just as I teach it on my Hunt Smart® course.
It brings together into one succinct book the most important information from our SOTS trilogy, 18 issues of our magazine and what I teach on my course, including my latest conclusions and a lot more that I do not have time to teach on the course.
The high level of success experienced by countless participants after attending our course proves that my Hunt Smart system is highly effective. You can read over 60 Success Stories from course participants on this website. Summaries of many of these stories have been included to prove the effectiveness of the tactics that I recommend.
This book does not repeat the content of Vol 1, 2 & 3. Instead I refer you to the Volume and page number so you can read more about the subject I am discussing. This new book includes all my latest conclusions about Sambar biology, ecology, behaviour and the most effective strategies for hunting them.
This knowledge will enable you to develop a plan, apply the overlays as taught which narrow down where the deer are likely to be to less than 10% of the forest. And there they are. Suddenly you have all the time in the world. You calm down, range the distance, take steady aim and make an instant one shot kill.
Sambar Shikar doesn't get any better than this.
No expense has been spared in the production of this book as we were determined to make it the best it could possibly be. I took a 2.5hr helicopter flight over the High Country and the Sub-alpine, plus I spent an incredible 14 days in the Indian Jungle. During these amazing trips I took countless highly educational photographs and made numerous observations of these Big Brown Deer. The most educational and inspirational of these have been included in this book.
Full colour
Hard cover
464 pages
240 colour plates
50 plates have an instructional overlay
Purchase Options
You can purchase the book for yourself or as a gift for someone else. See the gift certificate section on this page for details about purchasing as a gift.
For credit card purchase choose 'full payment' above where it says 'add to cart' and then follow the checkout process.
We also accept cheques or money orders and direct deposits using the following details:
E & L Mason BSB: 704230 Account Number: 100316245
Don't forget to reference your payment with your name and email us your postal address.