Errol Mason's Hunt Smart
®

Training Course
"The Smarter You Hunt, the Luckier You Get"
My Hunt Smart course is an
INVESTMENT IN A LIFETIME of more enjoyable and successful hunting.
"Guide a Man to a Deer and You Feed Him for a Month.
Teach a Man To Hunt and You Feed Him for a Lifetime"
What is the "Hunt Smart System"
The principles of my Hunt Smart® system are based upon 30 years research into the biology, ecology and behaviour of sambar. Using this knowledge I have devised the most effective tactics for hunting this elusive Big Brown Deer.
Precisely how the complex interplay of wind, light, temperature, ground contour, minerals, vegetation plus hunting pressure determines what Sambar (and all other creatures) do, and when and where they do it, requires a lengthy book to adequately explain.
But fortunately it is easily explained on my Hunt Smart course as most of the 3 days is spent in the bush where all the relevant features are all around us, so it's a simple matter to point to each and explain its significance in detail. If one picture is worth a thousand words, consider the value of being instructed in the bush where you are shown hundreds of "pictures" from many different vantage points.
And to "top it off", usually we see Sambar - like the Big Stag in our recent YouTube video. Of course they are where they should be and doing what they should be doing according to my script.
Of course all those that failed to comply on previous courses have been shot – Charles Darwin's "survival of the fittest"
Why my Course is not a Hunt
My Hunt Smart course is not a Hunt for the following reasons:
Training requires constant verbal communication which cannot be done during a Hunt because the human voice spooks Sambar and other deer; and
Once a deer is shot an enormous amount of teaching time is lost due to the time required to recover the venison and or cape and antlers.
Strong Demand for Sambar Training
After publishing Secrets of the Sambar Vol 1, 2 & 3 I thought I had provided so much information that no one would ever need to attend my Hunt Smart Training Course. However since the SOTS trilogy was published demand has gone through the roof. It has become clear that those who read the trilogy before attending the course get the most from it and become the most successful hunters. Typically they also read our magazine and use this knowledge to compliment what they learnt on the course and from the trilogy.
Sambar Behaviour is tied to a "Basic Genetic Blueprint" As a result all Sambar behave similarly irrespective of whether they are Farm Fringe, Remote Country or Sub-alpine Deer
It doesn't matter whether you backpack into remote areas like the Wonnangatta at 450m elevation, the Howitt High Plains at 1500 -1650m or hunt the farm fringe at 200m OR use a gun dog or hunt with a bow - my Hunt Smart System will make you a much more successful and satisfied Sambar hunter. That's because Sambar Behaviour is tied to a "Basic Genetic Blueprint" which means they behave similarly regardless of where they live. As a result the sambar's "Hierarchy of Needs" and how they use each "Micro-habitat" is the same in the sub-alpine, Wonnangatta, Moroka, or farm fringe, OR in India or Sri Lanka, New Zealand or Australia - it makes no difference. You can also use my system to improve your success on all other deer including Red, Elk, Fallow, Chital and Rusa even pigs, goats and other game.
The following 10 Sambar Stag Hunt Smart Success Stories were all taken on Backpack Hunts in remote areas.
#1 Brett Cooke - harvested a magnificent stag after backpacking into a remote area less than 24 hrs after attending the course; Click here to view this testimonial
#2 Mark Walker - took his first stag as it lay in its bed 4 weeks after the course; Click here to view this testimonial
#12 Peter Russell - took his in a remote area soon after the course. See Pete's story in Issue 6 of our mag. In 2016, once again by applying the Hunt Smart system, Peter took another 30 incher in an extremely remote area. Click here to view this testimonial
#14 Greg Young; Click here to view this testimonial
#19 Matt Appleton - 3 days after attending our course Matt harvested a monster stag in the sub-alpine. See his story in the chapter "Australia's Top Stags" in SOTS Vol 3. Click here to view this testimonial
#21 Leon Alexander - yet again, another stag taken in a remote area. Click here to view this testimonial
#25 Matt Sheffield - shot his 33 incher in a remote area kilometres from the nearest farm fringe. Matt tells how he did it in "The Big Fella" p. 48, Issue 3 SOTS magazine. Click here to view this testimonial
#48 Luke Myers - harvested this stag on a solo backpack hunt into a very remote area. Luke tells how he did it in "My Perfect Solo Mission" Issue 13 SOTS magazine. Click here to view this testimonial
#53 (3 Stags) - Luke Myers - harvested these 3 stags on backpack hunts into remote areas. Click here to view this testimonial
Within weeks of attending our course, ADA Vic State President Col Brumley harvested his first stag during a Backpack Hunt. See Col's stag and read his story at p.100, Issue 2, Secrets of the Sambar magazine.
These Success Stories plus many many more which can be seen on our website prove beyond any doubt that my Hunt Smart ® System works anywhere, anytime.
CLICK HERE to view more Success Stories
My Hunt Smart System is Based upon the 90/10 Rule of Predictability
What I teach is based upon 90/10 rule of predictability.
It's what I have identified as being clear trends in Sambar behaviour.
10% may break the rule – but your hunting will be much more successful and enjoyable if you hunt with a 90% chance.
Some hunters say Sambar are where you find them. My research proves this statement is at best incorrect - and at worst it is misleading. Sambar are always where they are the most comfortable and secure in the conditions. As conditions, especially the weather is constantly changing so you must know where the deer will be in various weather conditions and temperature range. Teaching this is one of the many great strengths of my course.
Aim of My Hunt Smart System
The aim of my 'Hunt Smart System' is to enable you to find Sambar "that have no idea you are there." This will give you time to range the distance, adopt a steady shooting position, then take the shot at precisely the right moment resulting in an instant one shot kill.
Once you have attended my course you will never approach sambar hunting the same way again. When you get up in the morning the first thing you will do is carefully plan your hunt, rather than simply putting on your daypack, grabbing your rifle and wandering off into bush hoping to bump a deer. My Hunt Smart System teaches you how to plan each days hunt subject to the weather conditions and temperature at first light and the level of hunting pressure.
Remember this old but true adage: "If you fail to plan you plan to fail".
---
Click here to book your course
Click here to read Hunt Smart Success Stories
Click here to read reviews of the Course
View the Training Course Sambar Sightings
2019 Hunt Smart Course Dates and Availability
NOTE: if on mobile, please swipe the table to the left to see more information.

3-5 May
FULLY BOOKED
17-19 May
FULLY BOOKED
31st May - 2nd June
7 Positions Available
14-16 June
7 Positions Available
28 - 30 June
7 Positions Available
Training Course Vouchers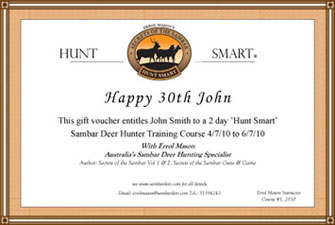 Give your loved one a Gift Voucher for a weekend with Errol Mason at his highly regarded 3 day Hunt Smart® Sambar Training Course.
Cost $1400.00 including GST
To purchase a Gift Voucher select one of the purchase options on this page. In the checkout form there is an 'additional information' field - please use that field to let us know your payment was a Gift, who it was for and any other relevant information.
The Smarter You Hunt, the Luckier You Get!
Please Wait, Processing Payment.
Do not refresh or leave this page until loading complete.