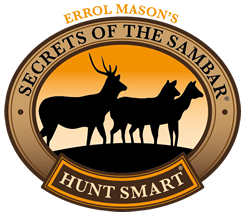 Mark Walker -
HUNT SMART COURSE

Success Story #2
---
Mark Walker with his first stag taken shortly after completing Errol Mason's Hunt Smart® Training Course Mark Walker had this to say about the course.
After 11 years of unsuccessful sambar hunting I recently attended Errol Mason's 'Hunt Smart®' Training Course. Shortly afterwards I hunted the 'High Country' where I put into practice a lot of Errol's hints and tips.
It all paid off when I took a magnificent 25 inch stag doing precisely what he recommended.
Without Errol's vast knowledge and experience behind me I would still be wandering around the bush hearing a lot of crashing noises in the distance. Here I am with the 'Trophy of a Lifetime' - a most magnificent stag.
Mark Walker