Secrets of The Sambar Magazine Success Stories
Hi Errol,
Thanks for your speedy reply regarding grid reference.
Find attached a photo of a 26inch stag I got this weekend with Jake my 22 month old GSP.
I could not have done this without the great info from your magazines and 3 books.
I also watched 2 hinds a spiker and a yearling feeding up a gully early that morning.
Cheers Errol
Matt Liddell
Topend Homes
Moe Vic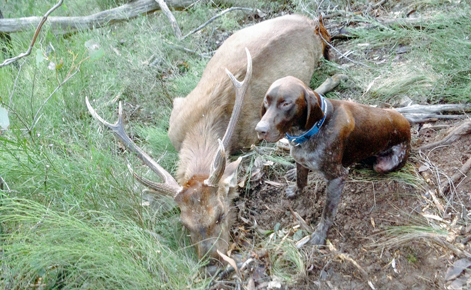 ---
Hi Errol,
I just received issue 6. May I say that I have seen many "Hunting Magazines" over the years, both here and in Germany where I lived, hunted and like you trained hunters for many years, but none have come near the quality and detail of information that yours presents. Congratulations!
Thanks again.
Kind regards also to your wife.
John Gray
---
Hi Errol,
Thanks for issue 6. This is the best magazine I have ever read or seen. Thank you for a top magazine and your books are fantastic to.
Cheers
Trevor Tann
Toowoomba, QLD
---
Hi Errol and Lynne,
Love the latest edition of the magazine (Issue # 6). How you keep producing such a good magazine is a credit to everyone.
Congratulations.
Peter Walter
Willoughby, NSW
---
Hi Errol,
I just wanted to drop you a line to tell you that after picking up your magazine whilst buying my first rifle was the best thing I had done to better understand Sambar and opened up a can of worms when reading about Sambar. I feel in love with hunting this majestic animal two years ago during a camping trip up Big River on Lake Eildon. I purchased your book Secrets of the Sambar Vol. 1 and it is an amazing read. Thankfully it has put me on the right track to hunting considering the people who got me into hunting couldn't answer my questions about weather patterns, temperature, and habitat. Sadly I cannot afford your Hunt Smart course at the moment but I look forward to purchasing volumes 2&3 and learning more.
Keep up the great work.
Kind Regards,
Ivan Jelicic
---
Hi Errol,
Mate just wanted to say thank you for a top class magazine - the quality is superb.
I have enjoyed every copy.
Regards
Eric Cope
Sutherland, NSW
---
Hi guys,
Just wanted to give some feedback on the current issue which IMO is the best yet.
It is great to see the said sambar are identified with a yellow-dotted ring. I showed some friends in the office and they couldn't believe there was even a deer there! I would have struggled to find them without the yellow ring.
Anyway, congrats on another great edition - keep them coming!
Thanks and regards,
Andrew
Sydney
---
Hello Errol,
I would like to congratulate Bob and the magazine for the informative content on self-guided back packing trips.
It's a no-nonsense article that refreshes the facts that any hunter of differing experience levels will find helpful.
Keep up the good work.
Regards
Pete
Dubbo
---
Hi Errol & Lynne,
Am enjoying the latest issue very much. I'm reading it systematically. You two do a great job! Keep it up.
Enjoy the rest of this beautiful day.
Cath
Bairnsdale
---
Hey Errol & Lynne,
Another top mag. Well done to all the team - what a great read.
Thanks
Bear
King Island
---
Hi Errol
Hope you are all well. Like the previous issues this one (issue # 5) is very good reading. Keep it up.
Roger Wallis
Hobart Tas.
---
I have been sambar hunting three times over the last three years. First time went with friends from Vic who had dogs and saw 7 deer in a week. 2nd trip went by ourselves and saw nothing in the week. 3rd trip this year went by ourselves again but this time read and intensely studied your first two Secrets of the Sambar magazines. They enabled me to start to understand and apply the information in them. By the 4th day spikers and hinds started to appear everywhere exactly where your magazines said they would be. Unbelievable!
As a result I want to subscribe for 2013 and buy your 3 Secrets of the Sambar books.
Greg Reedy
Kilcoy
QLD
---
Hello Errol,
I am 16 years old and I am mailing you to say how grateful I am to have read your magazines. I have bought all three issues so far and can't wait for the fourth issue to come out. I love deer hunting, especially sambar hunting and I just recently harvested my first deer which was a sambar hind and think the only reason I managed that is with a bit of my dad's knowledge, but mostly from the information and knowledge from yourself out of the magazine. I can't keep my head out of it! And I'm not really a reader ha ha, but I guess it's because I'm so interested in sambar and hunting.
So thank you and also I hope to do a 3 day course with you one day.
Yours sincerely,
Nathan Shields
---
Hi Errol
I am certainly enjoying your magazines. Keep up the outstanding work.
Your article "Do Sambar Stags Bellow?" reminded me of an incident I encountered about 20 years ago. My wife and I were camped in a tent on the western edge of a pine forest not far from the Buffalo River Scout Camp near Myrtleford. At about 2 or 3 am we were both jolted awake by a very loud roar. We both sat up and it sounded again, and then went silent. My wife said "What was that?" and I said "I bet that's a deer". It sounded once again and was about 200 yards from our tent.
In the morning, I found the tracks where the stag had come down from a high vantage point, approached the forest but stopped just in the hardwood where he sounded. He then continued down a gully and into the forest. He travelled parallel with the forest edge for 500 yards then headed west up another gully system. I got the impression that he had approached the calling point with anger or determination. The tracks were very strong. I assumed that he was looking for a fight. I have since mentioned this event to other hunters, but they have never heard anything like it.
I will continue to look forward to your magazines arriving in my letter box.
Regards
Neil Cole
---
Gooday Errol,
I am a victim of your own craftsmanship WRT your first class magazine! I have bought your first 3 editions! Love your mag. No doubt one of the premier mag publications anywhere in the world at present! Nothing in the States compares.
David Elliott
Wheelers Hill
Vic
---
Hi Lynne & Errol,
I'm finding the magazine a great read. I have been using some of the tips and advice and had great success with a sambar stag this weekend just gone - I was able to put the same stag up twice in the same morning. I ended up deciding not to pull the trigger, but I think some of the advice in the magazine, esp the zones of silence articles in issue 1 & 2 helped me track him down the second time. I don't sit and glass as much as some of the articles suggest though since I do like the walking around, but certainly lots of handy tips and advice in the magazines.
All the best,
Dan Baker
---
Hi Errol,
I commend you for publishing an excellent magazine. It's well structured and set out and the writer's contributions and the "Errol's Thoughts" segments are very informative. There is always something to learn with sambar and we never stop learning. I will surely be putting some of your advice into action.
Regards
Roberts Ralph
---
Hi Errol & Lynne,
I'm reading your June issue magazine that I came across in a newsagency in Geelong and wish to compliment you and your team on such a diverse journal. Being new to deer shooting but a long time shooter in other fields I find it to be a wealth of information. Coming from a Printing Trade employment work place, the mag is just excellent in its finish. One question I have is there any way I can purchase the 1st February issue?
Kind regards,
Ian Bigmore
---
Hello and thank you for your quick delivery of issues 1, 2 & 3 of the Secrets of the Sambar magazine. I have had a quick flick thru and they are of great quality and will provide a great reference source in the future. I have also just paid for another subscription for future issues. Many thanks.
Regards
Alan Flint
---
Hi Errol,
I have just finished reading Issue 2 of your new magazine which was given to me. It was that good that once I started reading I simply couldn't stop. The standard of journalism and overall quality is the best I have seen in 40 years of reading hunting magazines. The science and depth of information was amazing. I have never seen anything like it before. I especially enjoyed Zones of Silence, the Biology of Antler Casting, Zero Impact and Ranthambhore. I have owned and bred German Shorthair Pointers so I enjoyed the articles about breeding and training gundogs. Please send me a subscription and I also want to buy your books - Secrets of the Sambar Volume 2 & 3. Keep up the great work.
Paul Richardson
Maclean, NSW
---
Errol
I just went to the local gun shop (Shooters Wholesale) and noticed they were selling your magazine. They commented the content is the finest they've seen compared to other magazines. I thought that's not bad feedback.
Jason Vella
Canberra
---
G'day Errol...
How's things mate?
Just a bit of feedback on your mag... ITS THE BEST DEER MAG EVA!!!
It's just what the doctor ordered mate... It covers everything. I love every aspect of it...
Well done to all!!!
Mark Brocker
---
Hi Errol and Lynne,
Well done on you magazine. It's a great read! I'm going from cover to cover and devouring all the teaching on Sambar to try to gain more knowledge. The sections on India etc. I flip past but not everything is for everyone. Love the quality. Keep up the good work.
Cath Rayment
Bairnsdale
---
Dear Mr Gough,
Just read your article on safe river crossings and thought I would take the time to say thank you. I thought it was a very well presented piece and I for one have taken a lot out of it. Thank you sir. Keep up the quality articles. I look forward to reading more like that in the future. It was great.
Kind Regards,
Ben Mason
---
Hi Errol,
Thank you very much for the magazine. I received it today.
Very impressive. Great article on Teddy. I have a copy of The Adventures of Theodore Roosevelt. I bought it recently and have yet to read it. There was a good article about his 500/450 H&H double in the 2011 Gun Digest. Well worth reading. I'll never own a .405 model 95, but I do have a Winchester model 64 from the first year of production, 1932 in 30 WCF ( 30/30). It's as accurate as a bolt action and a joy to carry.
Take care,
Regards Jon
---
To Errol,
Another jam packed issue - a great read. Your books and magazines follow me around the house and in my car like a Melways! I haven't finished reading issue 2 yet and can't wait for the next issue.
Well done.
Craig Trinder
---
Hi Errol
Great magazine. I used the zone of silence technique on fallow over the weekend. It was very windy and sure enough they were in the gullies that had no or limited wind.
Thanks
Mark Hansen
Records Classification Supervisor Logan City Council QLD
---
G'day Errol,
I wish to commence with Issue 2. I have already read Issue 1 many times and never get bored with it or your books, although I'm still missing Vol 1. Your information on sambar has completely changed the way I hunt and for the better. I am looking forward to reading the next magazine.
Many thanks
Chris Lengrand
---
Dear Errol & Lynne,
Just a quick email to say it's great to see a magazine come out that includes detailed and intelligent articles on my favourite subjects - fly fishing and deer stalking. I thoroughly enjoyed the first edition of the magazine, in particular the articles on gun dogs and encourage you to make this a regular component. Also, it was great to see some articles in there about fly fishing. I have just sent through $45 for my subscription.
Thanks again and good luck!
Kind regards,
Jeremy Hoffmann
Woollahra NSW
---
Hi Errol,
I bought the first edition of your magazine at the newsagent but now I wish to subscribe. Magazine is high quality and informative. I did your course a few years ago and it's been a great help. Keep up the good work.
Best regards,
Darren Kearney
Strathmore Vic.
---
Hi there guys,
I'm a keen bowhunter and have taken a fair bit of game across Australia with the bow, now living in Victoria. My focus is to take the almighty sambar so with you guys releasing such a great magazine and all the articles full of great tips from the most experienced guys my encounters have been a lot closer to the sambar. So thank you. It's fantastic. Keep them coming.
Also a big thank you to Dean Kleinitz on the bow hunting sambar article. That was a great story and in my eyes the guy is a true legend. I would love to see more bowhunting articles from Dean.
Thanks for your time,
Tayne Walters
---
G'day Errol,
What a top notch magazine mate. I think it is the first one I have read cover to cover and actually learned something as well from every article. If you still have the 1st issue I would like to start subscribing with that I as was after another to send to my mate overseas.
Thanks again,
John Bates
ACT
---
Errol,
Congratulations on a beautiful result - you should feel pretty damn chuffed, both of you. After a thorough examination I found one single typo, but nonetheless this is a great looking piece of work. It is easy to see all the hard work and sleepless nights paid off, all the articles look great, end of story.
One of the most outstanding features is that you haven't reinvented the wheel. This journal stands alone as a purely deer-oriented publication majoring on Sambar, and like your Sambar trilogy, has no peer in that respect. I don't believe anybody who hunts Sambar will be able to not buy a copy.
I would go further to say Issue #1 will attain collectable status, as have your books, within a short space of time. Don't be surprised if you find yourself in strange waters, having to reprint #1 to satisfy demand from collectors - this is what's happened to Rob Sloane with FlyLife - his #1 issue sells for around $30, from an original newsstand price of $6.95.
But back to SotS. I don't believe I have ever seen a magazine with so much content and so little commercialism, but for your sakes I hope the latter part changes sufficiently so that you can get some income from this venture.
All in all, I think you might have created a monster of pleasant proportions, one that will keep you both focussed and employed for a good while to come.
Cheers,
Rod
---
Hi Errol & Lynne,
Thought I would shoot you an email just to let you know I thoroughly enjoyed the new magazine. I read it cover to cover without putting it down. I am not sure how I will go waiting the 4 months for the next edition.
My brother and I are putting in a lot of hours in the bush mapping our hunting area, and the magazine has given us another couple of things to think about while we are out there.
Great to see all of your work finally hit the shelves. Once again, congratulations on the release. It's very well written, easily readable and very informative.
If you have any queries, please do not hesitate to contact me.
Regards,
Nathan Grimes
---
Hi Guys
I received the copy of Secrets of the Sambar Issue # 1 today. Wow, wow and wow again.
You guys have done a brilliant job. Best magazine in Australia (easily). The tiger pics from India are simply amazing. The shot of the sambar whilst fly fishing is a classic, the articles are a great mix. Well, written, informative and USEFUL.
Brilliant, brilliant work.
Mark
---
Hi Errol
Just thought I'd let you know I got your mag today in the mail..."LOVE IT MATE" !!!!!!! Good work...
Thanks to yourself and Lynne...
Happy hunting regards
Mark
---
Errol,
Congratulations to yourself and Lynne on your first issue of Secrets of the Sambar and other Cervidae magazine. What a fantastic publication with information to help with all aspects of this sport. Such diversity in articles it's hard to put down.
I just love "Errol's Thoughts"!! You have set a new standard in magazine quality and these will be kept by many for future reference.
Looking forward to catching up again soon,
Regards,
Stewart
---
G'day Errol & Lynn,
I've just received your new magazine and found it a refreshing and vibrant read, with plenty of new faces and new ideas and viewpoints not the same old commentators offering nothing more than rehashed material. I loved the brief history on Teddy Roosevelt, I'd read about him at school as a boy, but learnt more about him in the 5 pages in your magazine then I ever did at school. If only we had pollies with the foresight, guts and determination he had Australia would be a better place to live!
With the wide subjects covered in the mag fishing, tigers, knifes and where to find the cagey brown buggers it was a great read and once I picked it up I couldn't put it down till I'd read it from cover to cover!
Congratulations on a top class mag and keep up the good work.
Dean Wheeler
---
G'day Errol
Bloody good job mate! I received the magazine and was instantly impressed just by the cover, even before I opened it! I think you have done a wonderful job with the look of the magazine. I really like the earthy tones and everyone in the family here was very impressed as well. Anyone who picks it up is always impressed with your books when they see them. I can't wait to get my nose into this one.
All the best mate and great job.
Tony Evans
---
Hi Errol,
I have received the magazine and it looks fantastic! It is more of a journal genre than a magazine which fills the void in the current offerings beautifully. I have only read a fraction of it so far but thought I should email you and congratulate you. Finally a publication that hunters can be proud to pick up in the newsagents - one that represents the art, the science, the passion and the lifestyle involved in the pursuit of Sambar.
Congratulations to all involved.
Cheers
Tom Hall
---
Gday all,
I have been reading Errol Mason's new Mag and it is a bloody ripper. They are pushing for subscribers to secure its future. Help him out and subscribe so they can keep producing it. I was super impressed and want it to continue. Quality writing, great photos, practical advice, hunter ethics, live shots of deer in their natural habitat.
Tom Hall
---
Errol & Lynne,
You have delivered a great magazine. The spread of very interesting articles is excellent and compels you to want to read all of them, something not found in most magazine. Thanks for the mag, Great photo of Joe.
Cheers,
Neil Hair
---
Hi Errol & Lynne,
Got your new mag last Friday. I finally got it off Louise on Saturday. FANTASTIC!!! We both love it.
Ian Tanner
---
Hi Errol,
I just wanted to write an email mate letting you know that I received the new magazine and what a terrific read. It is full of great things mate. You should be happy with it. I'm from Tasmania myself and have bought all 3 of your books they helped me achieve my first fallow stag last year - 23 points.
I think what you write in your books on sambar can also be used whilst hunting other deer. I haven't had the chance to come over and hunt the great sambar yet as my biggest thing is not knowing where to start. I may just start saving my pennys to come and do one of your courses and try and head from there.
Anyway Errol great read mate and you should be proud of it
Regards
Andrew Hooper
---
Errol,
Congratulations to you and Lynne on the successful launch of your new magazine. I received my copy during the week and it has been stuck to my face ever since!! It oozes quality. Not only in terms of the articles but also the photography and paper it is printed on. Top job. I can't wait for the next edition.
Regards and best wishes,
Andrew Hargrave
---
Hi Errol,
I trust you and your family are well - especially after the launch of your fantastic magazine. Congratulations! what a new star on the hunting magazine sky.
What I most like is that you did not use (repeat) any of your published know-how and stories from your three books. At least I couldn't find any. Great effort and I am certain you'll succeed.
Best Regards,
Hardy
---
Hello Errol and Lynne...
A quick message to let you know I received my copy of the first edition of 'Secrets of the Sambar'. Congratulations guys - a well balanced editorial approach, per your eclectic choice of articles, and given the balanced manner in which the writers presented their submissions the magazine made for a thoroughly easy and enjoyable read. I was quite impressed with the inclusion of articles on fishing, in particular the article 'penned' by Rob Zagorski. Great tone and informative, (as I haven't done a lot of fishing), thus I'll be looking forward to follow-up submissions from Rob.
The inclusion of the article on the tigress was also relevant - pertaining to nature and the natural environment of Sambar.
Now, regards the article on Theodore Roosevelt, yes, we owe so much to the philanthropy of Theodore Roosevelt and his directing of his power and influence as a conservationist. It is humbling to acknowledge what he achieved in his lifetime - comparative to what 'we' have dismally failed to achieve in all the years since! However, as for his hunting exploits ... such ripping yarns! Hmmm, I suppose the wry grins that come across the faces of my native African friends' faces when the hunting exploits of the Roosevelts are broached abet some personal reservations.
Thus, this is a thank you message, as well as being congratulatory.
My regards
Don Lucas
---
Hi Errol,
I see a new magazine in the newsagents...haven't read it all yet but looks good with a bit of diversity. I like the bit about the deer remaining the star of the show...an important point.
Cheers,
Ken Pearce
---
Dear Errol and Lynne
Just received a parcel of your wonderful magazines.
Frankly speaking nothing could have been better than this. The quality, printing and layout of the magazine is amazing. Just flipped through the pages, both of us are overwhelmed. Please accept our heartiest congratulations to both of you for this great beginning. All the very best for your future plans.
Now we are working for Swamp Deer...
Regards
Gobind & Ritu
---
Dear Lynne and Errol.
Congratulation for the first edition. It's full of wonderful articles. I wish I could have it monthly.
Good luck and Kind regards
Gabriel Bartha
---
Errol,
I have always admired your "meaty" articles in Guns& Game and was blown away with the quality of your new magazine and have subscribed. I have also ordered a copy of the tiger print and the 3 volume set of your books. Would love you and Lynne to sign them for me please. I wish you well with the magazine and look forward to your continued success. I liked Vol.1 a great deal as it is filled with the stuff that one can learn from and grow. Yep, it is a bloody beaut.
Thanks.
Bruce McPaul
---
Hi Errol and Lynne...
bit late getting back to you, I thought your new mag was just great, and enjoyed reading very much looking forward to next edition thanks again... Cocksy
John Cocks