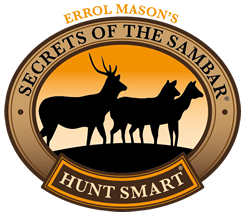 Bob Shepherd & Peter Russell -
SOTS TRILOGY

Success Story #7
---
G'day Errol – well we did what you said and "did it!!" Peter and I have just returned from a 7 day hunt in the high country and secured a magnificent 28" x 28" stag. We had both read your books cover to cover and took them along to use as a reference after each days exploring.
We found a number of stag "play rooms" ¾ the way up a spur with preaching trees and rub trees in prolific amounts. The stags were obviously patrolling their areas ¾ of the way up the ridge, contouring the spurs. This is where Peter shot this beauty just at about 5.50pm – about a half hour before dark. The stag was at 60m and walking briskly through thick timber. By the time Pete took a sight on a shoulder shot he was moving behind a wall of trees and he stepped into a lung shot with the 330 Dakota and a 225gn Woodleigh PP.
Unfortunately the bullet hit a bit too far back and the stag bolted at the shot. Despite a thorough search Pete could not find him so we both returned the next day and spent half the day looking for him. By 2.30 we had given up and were walking out when I spotted a pair of deep hoof gouges 20m from where Pete believed he had hit him. Suddenly I was then on fire, tracking the stag off the edge of the ridge over his game trail and down a gully where he collapsed into a wombat hole completely covered by ferns.
As I was the GSP for the day, I used every bit of info you wrote in Volume 1 on the animal's reaction to a shot, the bipedal jump, the collective track of a panic gallop, lung blood drops, etc. I found the first blood spot 30m from where he was standing when Pete fired and he was lying dead about 100m from where he was hit.
Seeing I had never really tracked a Sambar before I could not have done it without your information. In fact, Pete and I reverted to the books each evening to refresh what we saw each day.
===
I owe this fine stag to you because of what you taught us through your books and your Hunt Smart training course. I persevered with what you said to do and proved your system works.
We thought you would really like the photos showing your books either side of my wonderful stag.
Regards from a very happy Sambar Hunter
Bob Shepherd & Peter Russell, Dubbo NSW