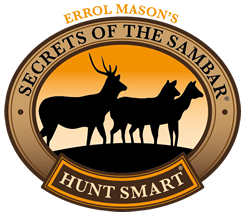 Andy Ziems -
HUNT SMART COURSE

Success Story #35
---
Employing sambar behaviour and tactics learnt on Errol Mason's Hunt Smart Course I took this fine young stag.
The great benefit I got from doing the Hunt Smart course is that now I don?t spend all my time walking the bush. I just have my go to areas where I have learnt they will be in the conditions and without a doubt they are never far away. They are creatures of habit.
I now use low impact tactics and I know my hunting area well. All these elements and many more assisted in taking this young stag, My 2nd since doing the course late last year.
The thing about the Hunt Smart system is that it just works. It's that simple.
Andy Ziems