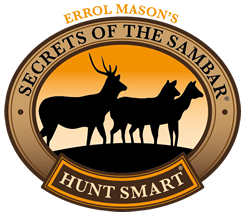 Edward Malone -
HUNT SMART COURSE

Success Story #30
---
Hi Errol, It's taken me 8 years of hunting but only 3 trips after attending Errol's Hunt Smart course for me to secure this - my first Sambar stag last weekend. I'm absolutely stoked!!
In 2012 I decide to step it up, I was not getting near stags trying to walk them up so decided to change tactics. I started to become involved in the online forums, asking questions, I read Errol Masons "Secrets of Sambar" several times and made a promise to spend every week off footy in the bush.
The research I had done highlighted the "Hunt Smart" course as a very valuable experience, I spoke to Errol several times and he was kind enough to fit in with my footy commitments and I joined in a course. All I can say here is that anyone even contemplating hunting deer should make this mandatory. I would have saved the cost of the course twice over with the advice on binoculars, scopes and clothing alone. The course syllabus is then a bonus, which is apt because money can't buy what I learnt on this course.
I'd like to extend my gratitude to Glen Roberts of Precision Shooting and Errol Mason of Hunt Smart for the invaluable instruction and ongoing advice. I can't recommend their respective courses high enough. They are 2 of the best blokes going around and without a doubt if I had attended their courses earlier this success would have been reached many years ago.
Thanks & Regards, Edward Malone