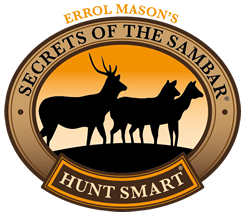 Chris Brereton, Bairnsdale -
HUNT SMART COURSE

Success Story #39
---
After relocating to East Gippsland to hunt Sambar and stumbling through the scrub armed for most of the time, I decided it was time to invest in the Hunt Smart course and have not looked back.
Finding a remote wallow in my pre-course hunts and hunting it several times over almost two years with only one encounter - where my presence was easily detected - but getting photos of many deer on my trail camera, I returned immediately after attending Errol's course with my newfound knowledge.
Over several months using low impact techniques I constructed a tree stand and waited for the right weather forecast. My first morning in it a stag rose up out of the mud. I observed him unalarmed for several amazing minutes and then calmed myself before harvesting him with one well-placed shot. An instant kill.
Six days later I returned to the spot hoping the heavy rain that fell that afternoon had washed away all my scent but it didn't matter for as the morning wore on my Hunt Smart knowledge told me I would be better to head into the gully on the opposite side of the ridge, and in doing so I harvested my second stag in less than a week. He was also unaware of my presence and was taken with an instant one shot kill.
Unbelievable - 2 stags in less than 7 days - both around the 25 inch mark.
Aside from these I have also harvested two unalarmed yearlings for the freezer, taken photos of Sambar as well as not raising my rifle to others. All this has been possible due to the skills and knowledge learnt on the Hunt Smart course. Now when I head into the bush I feel more in control of my hunts. Thanks Errol, I now look forward to putting this knowledge to use on other species, as well as continuing the search for the elusive 30 incher.
Chris Brereton, Bairnsdale