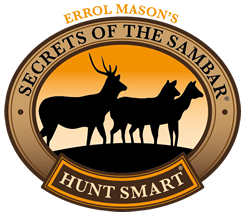 Brett McGuffie -
HUNT SMART COURSE

Success Story #59
---
Hi Errol, Here is a couple of photos of a Sambar hind that Grant and I took about 6hrs after we left your course. It was very informative and put a whole new perspective on the big picture.
Just prior to this Grant and I saw 2 stags heading over a saddle to the west side of the range with a very strong and icy easterly right behind them.
Once again a great course.
Brett McGuffie