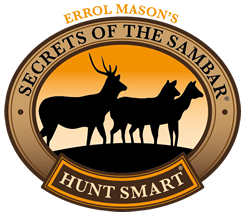 Robert Zagorski -
HUNT SMART COURSE

Success Story #16
---
G'Day Errol, I would like to thank you for helping me understand sambar. If I only become half the hunter as you, my goals for my life would be achieved, as you are truly an inspiration.
Using tactics learnt on Errol's Hunt Smart® Training Course, Robert Zagorski took this unalarmed sambar hind for venison
This is the story of my hunt to celebrate the arrival of our first born son, Alexander. On his birth I decided to head to the high country to mark the occasion. On arrival I found sign where the deer had been feeding exactly where Errol said it would be. I strategically placed myself in the 'zone of silence' using the Hunt Smart techniques learnt on the course.
I scouted the gully for movement and soon found numerous deer moving down into the feeding ground. I ranged the spot at 300 yards and selected the best deer for quality table fair. I took the animal with a single shot, dropping it cleanly on the spot. I used projectiles, equipment and shot placement suggested by Errol. It was a text book hunt comprising a check list of sambar behaviour. It was very humbling! It has given me tremendous confidence to take deer at distances I would never had contemplated before learning Errol's Hunt Smart techniques and using the appropriate equipment. I now see more deer in a single hunt than I previously saw in a year, and because they are unaware of me I am able to carefully select the deer I want harvest. I really enjoy this aspect of the hunt.
The only regret I have is not attending Errol's course earlier as it is truly a great resource about sambar behaviour and how to hunt them. No doubt his books will be here for generations to come as they are like a bible to serious hunters. I knew his course was going be great when I arrived for lunch and sampled some of Lynne's fantastic cooking. Truly a great hunter and a warm and hospitable host. Thank you once again. You have saved me many of kilometres of wondering aimlessly around the bush. Forever grateful.
Robert Zagorski