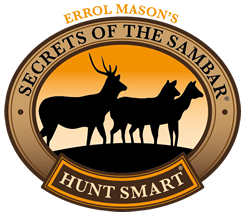 Michael Mann / Mark Brown -
HUNT SMART COURSE

Success Story #63
---
Hi there Errol, It was May 2016 when Michael Mann and I joined you for the Hunt Smart course – a thoroughly informative and enjoyable time that set us both up with an understanding of Sambar Deer and their behaviours enabling us to go on to successfully hunt deer in a range of locations and conditions – from private property to state parks, in mid-winter, through to the hot dry spells we have had this last summer.
Using the information you gave us has allowed us to determine where the deer are most likely to be, and how to get in front of them with the lowest possibility of them being aware of us. I'm not going to go over the things you taught us as you would already know what I would be thinking of, but suffice to say that we still reminisce about our course with you. 
We have taken many deer since then, but just last week Mick and I narrowed down an area we "knew" there had to be deer in and worked out when and how we could get in front of them. We saw stags every day and nailed this great example (28¾ X 29¼). I have also included a photo of another really nice stag I took since the course. Being such a "textbook" case of putting your principles into practice – even before we shot a deer Michael and I said this would be "one for Errol".
Kind Regards,
Mark Brown and Michael Mann – Livin' the Dream - Croydon Vic
To read why Mark and Michael have been so successful since attending our course, buy your copy of our new book Secrets of the Sambar - The Hunt Smart System ® which features their story and many other success stories and explains why each was successful. AND OR book your position on the limited number (5) of Hunt Smart Courses we are running in 2019. Already positions are filling fast.