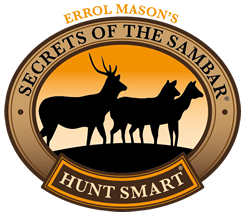 David 'Bluey' Smith -
HUNT SMART COURSE

Success Story #8
---
Errol Mason explains to students on the AHI/Game Council NSW Hunt Smart Training Course how to age faecal pellets and how to determine the size and sex of the deer that left them.
CORRYONG HUNT SMART TRAINING COURSE SUCCESS STORY - DAVID 'BLUEY' SMITH
Two days after attending Errol Mason's Hunt Smart Training Course for Orange AHI members and Game Council managers, Chris Hyde and I headed to some farm fringe country not burnt by the 03 fires. Finding fresh sign on the fringe we moved up and glassed the North West face of a gully head. In the bottom I spotted a spiker as he got up out of his bed. A high shoulder/spine shot (with bone fragments splintering into the lungs) from Chris's .325 WSM dropped him on the spot and I had my first Sambar. He was bedded not 200m from the 'hub' and 50m up the face from the bottom of the gully.
I sincerely believe that Errol Mason's Hunt Smart Training Courses are the only choice for those hunters wanting to learn the 'Secrets of the Sambar'. The Hunt Smart System provided a wealth of information and put it into a commonsense approach to hunting. 2 days after attending Errol's course I used the tips and techniques I learnt to take this spiker - my first Sambar. Thank you Errol !
Cheers mate!
Bluey
David Smith
Game Manager: Sydney Metro / Central West
GAME COUNCIL OF NSW
Conservation Hunting