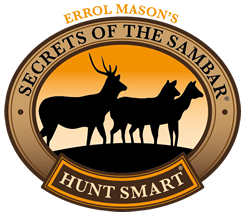 Dave Parker -
HUNT SMART COURSE

Success Story #57
---
I just returned from a successful hunt after attending Errol's course earlier this year. I hunted a gully that had several feeders, good north facing slopes as well as access to prime pasture.
After a day of scouting and glassing I chose a spot which was a 'funnel' from the farmland with a view into the flats as meat was my primary goal for this hunt. I did a sit and wait at dusk however did not see anything that night. So I moved closer to the pasture to another site that I had chosen and had prepared.
I got up at 4am and it was a relatively warm 8°C and foggy when I awoke. I followed the creek into my spot that had a great view of the flats from across a creek.
I sat glassing until about 40 minutes after first light by which time it was quite bright and I could hear traffic and dogs from the nearby town so I was adamant that I must have missed them coming off the pasture. I knelt up, started to fold my stool then 'honk' and several deer thundered up the face behind me. Thinking I was definitely done, I then heard another honk, stamping feet and honk again. Knowing that it was a deer looking for me, I was on my Vixen binos again. I found a hind looking at me from about 100m away. Binos down, rifle up, red dot adjusted on the hind and I managed to get a good quartering shot into the shoulder that went straight into the lungs.
She ran back up the trail and I waited about ten minutes then followed her up. The blood trail was significant and bright in the rising sun and I found her 30m from where she had been hit. A great meat animal and my first Sambar. As it was down on the flats I was able to get my 4WD within 150m making for an easy carry out. 
I was stoked to have my first Sambar and a freezer full of meat for the family.  Although not a fantastic antler trophy for me the real trophy is prime venison for my family as well as a great confidence boost after several unsuccessful (but educational) hunts. 
Thanks again for not just your course, but advice on optics, tactics and tips prior to and since my course. 
Dave Parker, Stanwell Park, NSW