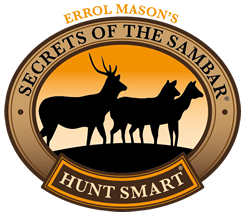 Steve Kruger -
HUNT SMART COURSE

Success Story #66
---
Hi Errol, Thought you'd like to know that I have finally caught up with that big stag that I've been chasing for the last 18 months.  I've put into practice what I learned on your course and in your books and it paid dividends.
Targeting a specific animal and persisting until you take it, often passing up other animals, is the pinnacle of Sambar hunting for me. To say I'm rapt is an understatement! 
My sincere thanks! I owe much of this to you.
Regards,
Steve Kruger, Bombala NSW
In his story "Persistence Pays off" published in our new book "The Hunt Smart System ®" Steve explains in detail the approach and tactics he used to harvest this Monarch.