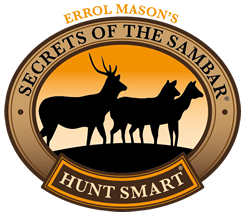 Ron Conrad -
HUNT SMART COURSE

Success Story #10
---
Ron Conrad's success story from Corryong Hunt Smart® Training Course
Hi Errol,
I have been hunting (aka chasing) sambar for about 12 years without success. After doing your course I learnt more about 'hunting' sambar in 1 weekend than in the past 12 years. I was able to bag my first sambar - a hind - the very next day using the knowledge gleaned from your course.
It was text book stuff.
I first looked for sign of sambar in the area, found browse, fresh droppings and tracks. I found a wallow and took your advice about getting in 1 hour before dark, getting down wind and building a hide overlooking the wallow.
Right on dusk I heard crashing through the bush and a stag and hind appeared. The stag knew something was wrong and honked in my direction several times but I could not get a clear shot at him, so decided to take the hind.
My family are now enjoying plenty of venison.
Thanks Errol
Ron Conrad, Sydney