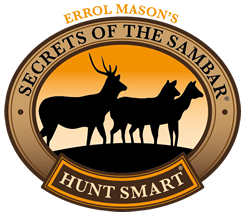 Michael Pritchard, Melbourne -
HUNT SMART COURSE

Success Story #31
---
After 4 mates and I had spent several frustrating and unsuccessful years hunting sambar, we decided to attend Errol Mason's Hunt Smart course. We attended on 5-7 October 2012 and on the 20th of October - just 2 weeks later one of my mates and I went on our first hunt since the course. Using the system which Errol's course had armed us with, we began hunting sambar with a totally new approach. And right from the start the plan came together.
At dawn on the first morning of our hunt - for the first time ever - we got to watch sambar that did not know we were there. First we watched a hind travel down a spur line, backlit by the red glow of the rising sun. What a spectacular photo that would have been. Then we spotted 6 or 7 others with calves on what Errol calls a feeding hub - the hub of his wagon wheel approach to understanding sambar.
Then I spotted him on a distant hub just 100m above the valley floor - a young stag grazing in the soft diffused light of dawn. I stalked into a patch of wattles - set up my shooting sticks, took careful aim at his broadside form and from 250m and released a 180gn Core-Lokt. He ran 50m then fell over dead. Instantly Errol's Hunt Smart system made what previously had seemed nearly impossible, almost too easy.
Michael Pritchard, Melbourne