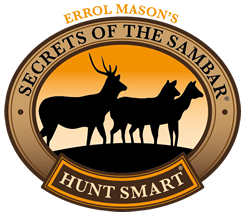 Andrew Rosser -
HUNT SMART COURSE

Success Story #46
---
It's now 3 years on since I did the Errol Mason "Hunt Smart Training Course" and my approach to hunting will never be the same. I have seen more deer and have had the opportunity to take deer on every trip since completing this course.
Since attending I have had only 3 trips into Sambar country, in this time I have shot 2 stags and this year guided a mate of mine onto his first stag and hind.
I highly recommend Errol's "Hunt Smart Training Course" it has given me the knowledge and confidence in the bush. The course not only gives you the theory behind the where, why and how but practical tools to go along with it.
Thanks again Errol for sharing your lifetime of knowledge and experience.
Andrew Rosser