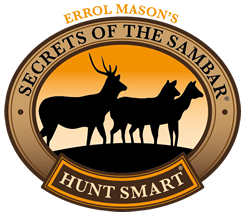 Wayne Robinson -
HUNT SMART COURSE

Success Story #9
---
Dear Errol, Just a quick note to thank you once again for the great course you ran. I got lots of really helpful information in regards to tracking and hunting of Sambar which has been really useful.
After leaving Swifts Creek I went up to Mansfield for some fishing and of course to try out my new skills at hunting Sambar. After two days of looking,I found a moist gully that looked promising with lots of sign. I was able to harvest a Sambar hind whilst she was making her way down to feed. I took her with a cross gully shot from 120 metres. I used the high shoulder blade/spine shot which you taught me and her legs buckled as the 180gn Norma hit her and she tumbled down into thick bush. After a bit of searching I soon realized that Sambar are as hard to see dead as they are alive. After finding her I took the attached photo. Although the bullet exited there was no blood trail at all. I was able to kill this unalarmed hind instantly with one shot by applying a number of techniques and tips you gave us on the course so thanks once again.
I must say how incredibly fantastic it was to watch 3 unalarmed sambar - a hind and her calf plus a spiker on 3 separate occasions during the course. This was priceless!!! By studying them for long periods I could see just how elusive they are - how slowly they move and how hard they are to see especially when bedded.
A final thank you to your wife Lynne for the great meals and the very warm hospitality she extended to us whilst we were there. It was greatly appreciated. The food was so good it was the stuff you would write home about. So thanks again to you and Lynne.
Happy Hunting!
Wayne Robinson, Melbourne