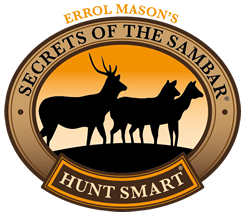 Nathan Grimes -
HUNT SMART COURSE

Success Story #24
---
Within 43 minutes of hunting after Errol's "Hunt Smart" course, between the 2 of us we had seen 8 hinds, 1 trophy stag and bagged a hind for venison. Errol talks about the 'Stars Aligning', and they most certainly did for us on this occasion. We are always amazed by this creature and this was no exception. - Nathan Grimes
My brother and I had been planning this hunt since we attended Errol Mason's "Hunt Smart" course 4 weeks ago in October 2011. We were eager to get into the bush and put the tactics into place that we had eagerly lapped up on the course. We decided to head into our favourite spot hoping to get a better mental map of it using the tricks and knowledge passed onto us by Errol. I had walked this particular bit of bush many times before but after the "Hunt Smart" course, it was like I was looking at it through different eyes. There were signs left by deer that now stand out like a sore thumb.
A short time later a good sized hind stood up just 35m in front of my brother. She was on full alert looking down the face and away from him. He sent a 180gn Winchester on its way which hit her just behind the ribs. Suddenly the bush came to life and 2 other hinds and a yearling scattered in all directions. A 20m stumble and she was down and rolled into a thicket. Smiles and quiet fist pumps followed.
An obvious blood trail made for a quick search and there she was - a magnificent animal and one we will never forget. The bullet had pierced both lungs and heart and smashed the femur resulting in a quick death. What a wonderful moment. There were smiles, handshakes, back slaps, and lots of photos. We harvested almost every bit of venison available and with massive smiles packed it into my daypack and lugged it out.
As we were walking out, we had a giggle at the fact that within exactly 43 minutes of hunting after Errol's "Hunt Smart" course, between the 2 of us we had seen 8 hinds, 1 trophy stag and bagged a hind for venison. Errol talks about the 'Stars Aligning', and they most certainly did for us on this occasion. I am always amazed by this creature and this was no exception.
Nathan Grimes