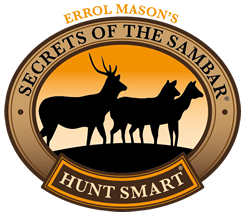 Paul Brincat -
HUNT SMART COURSE

Success Story #7
---
Left to right, Errol Mason, Anthony Macciocca and Paul Brincat examine a fresh sambar bed at the base of a large eucalypt. Errol explains how to tell it is actually a sambar's bed, how to tell the sex of its user and in what weather conditions it would be used.
Since attending Errol's Hunt Smart® hunting course I've found that I now have the knowledge to better utilize my limited time in the field. When previously I would have gone on a 3 day hunt and seen maybe one stag, I now find that I can go to a particular spot, apply the tactics and things I have learnt on Errol's course and see stags more frequently.
It has also helped to put the pieces together to determine a stags behaviour and habits based on such factors as weather, food sources and breeding grounds. Recently I was applying this knowledge one afternoon whilst glassing a known wallow at 4 pm when a 30 inch stag materialised out of nowhere. While observing this magnificent animal for a total of 30 seconds, I was amazed to see just how cautious and calculating his behaviour was.
He travelled stealthily, in total sneak mode, intentionally keeping to the bushline and avoiding open patches although totally unalarmed and unaware of my presence. Hence his escape. This experience alone has proved to me that trying to hunt these animals on the same face would severely narrow my chances of ever taking one of these animals unalarmed.
I believe that by constantly applying Errol's 'Hunt Smart' tactics, I will greatly increase my chances of taking a fully mature stag in the near future.
Paul Brincat, Mickleham, Vic.