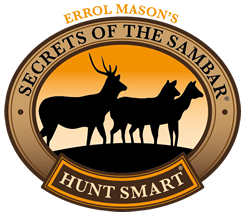 Chris, NSW -
HUNT SMART COURSE

Success Story #72
---
During 15 years of hunting sambar I had seen a few mature trophy stags but had been unable to get a good shot. Then - as a gift - my wife booked me into Errol's Hunt Smart course which was postponed until 18th June 2021 due to Covid. The course was a real eye opener and by the end for the first time in fifteen years of hunting sambar I felt that I had an excellent understanding of their behaviour.
On Friday 1st October I was on my first hunt since attending the course in June. Employing many of the aspects of sambar behaviour which Errol said have a high degree of predictability, I developed a plan to hunt a stag which I had seen within 100m of precisely the same spot three years in a row.
I waited for him in a staging area close to a mini hub, and sure enough the same heavy antlered eight pointer browsed to within 40 yards of me and stopped broadside, completely unaware of me, enabling me to kill him instantly with a high shoulder blade spine shot. To say I am over the moon is an understatement.
Taking this stag is easily the highlight of my entire hunting career.
Thank you Errol for helping me achieve this.
Chris, NSW