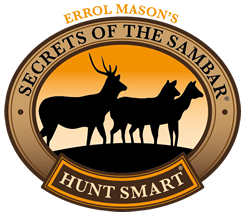 Dean Karlis -
HUNT SMART COURSE

Success Story #69
---
This game species is like no other in Australia. Their incredible brains enable them to sense your presence and above all they think. I have learnt that these deer are almost unbelievably intelligent so a stag knows when he should sit and let you walk by, only so he can tiptoe off behind you unseen. The odds are completely stacked against the hunter.
The question I asked myself before I signed up for Errol's course was, "why wouldn't I pay for knowledge as "Knowledge is King". Attending has proven to be the one of the best decisions I have ever made.
Errol's course gave me the basic tools which have enabled me to turn the tables on these deer giving me the advantage instead of the other way round.
After a 2 day course of non-stop knowledge absorption, my Sambar hunting game completely changed. All questions I had asked myself in the past whilst failing had been answered.
A scattered jigsaw puzzle of a thousand pieces had been pieced together into a logical and easily applied hunting system.
A confidence within me had been developed as to "where to look right now", "where to be this afternoon" and "what should I do tomorrow morning".
Before every hunting trip, during the drive to the destination and then of an evening at camp, I go over and over my notes I had written down during the course. These notes and Errol's books which helped me bag this magnificent stag with "thick as" 33 x 33 inch antlers, have become My Hunting Bible.
Regards,
Dean Karlis, Botany, NSW