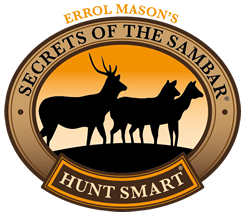 Hunt Smart ®
Training Course
---
My Hunt Smart course is an
INVESTMENT IN A LIFETIME
of more enjoyable and successful hunting.
Please choose the full cost, deposit or balance payment from the dropdown
---
What is the "The Hunt Smart System" ™
The principles of The Hunt Smart System ® are based upon 40 years research into the biology, ecology and behaviour of sambar. Using this knowledge I have devised the most effective tactics for hunting this elusive Big Brown Deer.
Precisely how the complex interplay of wind, light, temperature, ground contour, minerals, vegetation plus hunting pressure determines what Sambar (and all other creatures) do, and when and where they do it, requires a lengthy book to adequately explain.
But fortunately it is easily explained on my Hunt Smart course as most of the 3 days is spent in the bush where all the relevant features are all around us, so it's a simple matter to point to each and explain its significance in detail. If one picture is worth a thousand words, consider the value of being instructed in the bush where you are shown hundreds of "pictures" from many different vantage points.
Purchase Options
*Postage within Australia and GST are included in the indicated price. If you require postage to a different country please contact us and we will quote you postage.
ONLINE - You can pay with Credit Card online. Click the add to cart button to pay via credit card (Mastercard or VISA).
OFFLINE - You can pay via Direct Deposit (bank transfer) or send a Cheque or Australia Post Money Order. Note: Direct Deposit is our preferred payment method and helps us to keep costs down. Click the add to cart button and select 'Offline Payment' at the checkout and you will be able to choose 'Direct Deposit' or 'Cheque/Money Order'.
NON-SPECIFIED AMOUNT PAYMENTS - You can make a payment for a non-specified amount here - Click to make a non-specified amount payment