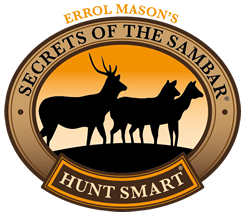 Brian Cherry -
VIXEN SCOPE REVIEWS

Success Story #2
---
Brian is extremely happy with the accuracy of his Tikka T3 and the low light performance of his new Vixen scope.
Brian is extremely happy with the accuracy of his Tikka T3 and the low light performance of his new Vixen scope.
I was using a popular 3-9x50 scope with a German # 4 reticle on my Tikka T3 30/06. It was nearly dark at 5pm in a dull tree fern gully in full shade on a mid winters day in early August 2010 when I saw a big stag in very low light close to dark. But I couldn't see him clearly through the scope. Plus I couldn't see the reticle clearly enough against his dark body to take a properly aimed shot so I passed up the chance.
I was so disappointed with the poor light transmission qualities of my previous scope that I removed and replaced it with a Vixen 2.5 to 10 x 50. It has the best German # 4 reticle and illuminated red dot I have ever seen. The heavy side bars come in nice and close towards the centre and the centre cross is neither too fine nor too thick. It's simply perfect.
Plus the red dot is not too big like some I have seen, and it is very sharp with no flaring whatsoever. Vixen must have done their homework because they have really nailed it with this reticle.
I zeroed it the day I got it and shot the best groups ever with my Tikka T3 30/06. I shot 2 x 2 shot one hole groups. It was amazed, and it took virtually no adjustment to zero it. I found the windage & elevation adjustment on the Vixens to be very accurate. In fact they are the most accurate of all the various scopes I have owned.
The 4 inches of eye relief was is exactly what is needed and I really like the fast focus eyepiece diopter.
A few days later I went up to a favourite gully not far from home where I had seen the big stag I had passed up. It was about 5pm and it was a heavily overcast winter's day. I sat and waited and soon afterwards I could see antlers between the branches of a tree which was shaking. Placing the Vixens red dot on the stag's neck, I shot between the branches with my Tikka T3 and 180gn Rem CoreLokt, striking the neck and killing the stag instantly. The face the stag was on was very steep and he was up the side 60 to 70 metres of the gully floor.
I cannot speak highly enough of that Vixen scope. I believe it's the perfect scope for hunting sambar. In fact, I am so impressed with it that I have been advising all my friends to buy one. I think they really are the best kept secret in optics.
Brian Cherry, Bright, Vic.