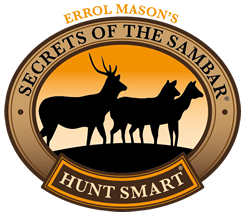 Peter Heylen -
VIXEN SCOPE REVIEWS

Success Story #12
---
Hi Errol, My step son Lachlan and I had been playing around for some time deciding what scope he wanted to put on top of his SAKO 30:06 for the purpose of hunting Red and Sambar Deer. There was always going to be opportunity of running shots. But as we all know most shots taken at Deer are standing and most under 100 metres in range. We were/are not particularly worried about face to face hunting. To satisfy these requirements we knew he needed a variable 1-4, or 1-6 or perhaps a much newer and expensive 1-8. In 2017 Lachy and I did Errol's Hunt Smart Course. Errol spoke very positively about the Vixen 1-6x24.
In particular the fact that the windage and elevation movements inside the scope were as precise as any scope he had ever seen. This includes Zeiss and Swarovski. I've got a Swarovski 1-6x24 and I know how good it is. So I hope I can be excused for initially taking Errol's commentary on the Vixen with a grain of salt. After all "who is Vixen anyway"?
However in the meantime I did some research on Vixen Optics in general. Be in no doubt they are a class act. After getting tired of waiting for something to come up second hand, coupled with my research on Vixen Optics in general and further coupled with what Errol said about the Vixen, I bit the bullet, rang Errol and purchased the LVF 1-6x24 with an illuminated red dot duplex reticle.
When it arrived by post Lachie and I did the usual inspections and compared it to my Swarovski. We agreed that the Vixen was as clear and bright as the Swarovski. The next test came at the range. After  bore sighting we managed to be close enough to hit the Bull at 25 metres to then go out to 100m using a 1" black circle Bullseye type target. The first 2 shots were about 6" low and to the left. Errol's words about the precise nature of the windage and elevation movements of the Vixen were in my eyes and I thought "let's see".
I moved the adjustments 4 click right and 4 clicks high. At 1/4" per click at 100 yards this equalled 1" right and 1" high. Lachie let off a couple more rounds. The Point of Impact (POI) had moved 1" right and 1" high. We repeated the dose and again the POI again moved exactly as it had before. Impressive indeed. So, rather than waste more ammo creeping the POI to where we wanted it, because we were still low and to the left, we did the sums for a bullseye hit at 100 yards. That was about 8 right and 8 up. Another round and Bullseye.
Errol's words were still in my ears and we ended up setting the SAKO/Vixen combination with 180 grain projectiles at 1 ½ inches high at 100 yards. At that point I realised I had to tell Errol and thank him for selling us such quality scope at half the price of a second hand Swarovski, that is just as clear and bright and dare I say it, with more precise windage and elevation adjustments. Lachlan and I don't work for a gun magazine and we don't normally write reviews such as this. We just try to be the best ethical hunters we can be.
However I have played around with firearms for a while now. Some 40 plus years. Hence I've sighted in a few rifles with scopes and seen a few sighted in. In all honesty I was/am astonished how bright and clear this scope is and how precise its adjustment. Next time I need another scope, and I hope I live that long, I won't wait for a second hand Zeiss, Swarovski, Schmidt and Bender or Leica. I'll just buy the Vixen.
Regards,
Peter Heylen, Adelaide