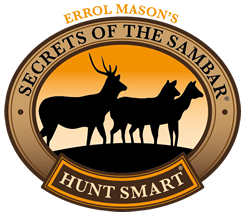 Steve Motta -
VIXEN SCOPE REVIEWS

Success Story #9
---
Hi Errol, An unforgettable experience several years ago led me to the decision to acquire the Vixen 1-6x24, a decision I would never regret. On that day I was honked repeatedly by a mature Sambar stag at only 30 yards in light dogwood.
While I had a visual on the stag, I struggled to get a clear view through my inferior scope. My last sighting of the stag was his enormous white tops as he made his escape.
After attending your Hunt Smart Course and acquiring the Vixen 1-6x24 I have harvested several Sambar with great confidence in a variety of conditions.
The wide field of view and impressive brightness allows for fast and accurate target acquisition. Recently on a hunt with my GSP, we bumped a Sambar stag out of his bed. As the stag climbed up from the gully floor I caught a quick glimpse of an antler as he stopped behind some thick cover. I had no problem picking his figure out through the scope, placing the red dot reticle over his right shoulder and taking the shot. The red dot reticle allows for instant target acquisition in heavy cover and low light conditions. This was my first Sambar stag, and made even more special by having my young GSP by my side.
For bush stalking my Vixen 1-6x24 and Tikka T3 30-06 is hard to beat. I am yet to lose a deer to this combination which gives me great confidence in taking on Sambar in the toughest conditions. In fact this scope is so good I just bought another to put on another rifle.
Regards,
Steve Motta, Greenvale VIC