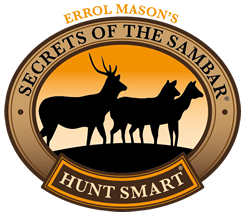 Alan Deacon -
IN-CLOSE FULLY GUIDED

Success Story #17
---
Booked with Errol to learn how to hunt sambar. Never dreamed I would take a Sambar stag let alone one as magnificent as this.
DATE: September 2000
Forest – extremely thick – face to face impossible.
Alan harvested this 340kg specimen.
Stag alert but unsure of our presence.
Standing 60 yards away.
Instant one shot kill - 270 Win.
Alan's First Ever Sambar Hunt.
See SOTS Vol 1 & SOTS Vol 3 for details.
See SOTS Vol 1 for aerial photo showing where stag taken.
Knowing the correct overlays to apply in the prevailing conditions was the key to Alan's Success.
See the 464 page Hunt Smart System book which lists and describes in detail the Overlays which you should apply to Pinpoint where deer of any species are most likely to be in the prevailing conditions.
Alan Deacon, NSW