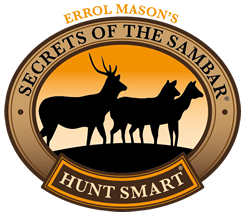 Charlie Mitchell -
IN-CLOSE FULLY GUIDED

Success Story #23
---
Possessing intimate knowledge of Sambar behaviour and the areas he hunts, Errol walked me into a carefully selected remote location in dense forest where - for tactical reasons - I waited alone in ambush for this magnificent Sambar Stag which I was able to kill with a single shot to the neck from 24 paces.
Using a Browning Safari Grade 30/06 fitted with a bright Swarovski 2.5 to 10 x 56 scope hired to me by Errol, I was able to kill the stag cleanly despite the very low light, with a single shot to the neck from 24 paces."
DATE: 25th May 2003
Charlie took this burly Stag.
Forest – extremely thick – face to face impossible.
Stag totally unaware of his presence.
Standing 24 paces behind him.
Instant one shot kill - 30-06.
Charlie's First Ever Sambar Hunt.
See SOTS Vol 2 for details .
See SOTS Vol 1 for Aerial Photo which shows precisely where stag taken.
Knowing the correct overlays to apply in the prevailing conditions was the key to Charlie's Success.
See the 464 page Hunt Smart System book which lists and describes in detail the Overlays which you should apply to Pinpoint where deer of any species are most likely to be in the prevailing conditions.
Charlie Mitchell, Perth Western Australia