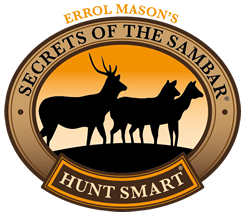 Chris Kinsella -
FULLY GUIDED

Success Story #19
---
2 Sambar Shikars 2 Sambar Stags. 100% success rate on sambar. Unbelievable!!!
DATE: September 2003
Having been instantly successful the previous year, Chis Kinsella booked again and harvested another cracker.
Forest – thick but face to face possible.
Stag aware of us, standing 300 yards away.
At shot stag bolted into adjoining gully and Errol tracked him - 375 H&H.
TWO Sambar Shikars - Two Sambar Stags. 100% Success Rate on Sambar. Unbelievable!!! Chris tipped me $1,500.00.
See SOTS Vol 2 for details.
See SOTS Vol 1 for aerial photo showing where stag taken.
Knowing the correct overlays to apply in the prevailing conditions was the key to Chris's Success.
See the 464 page Hunt Smart System book which lists and describes in detail the Overlays which you should apply to Pinpoint where deer of any species are most likely to be in the prevailing conditions.
Chris Kinsella, NSW