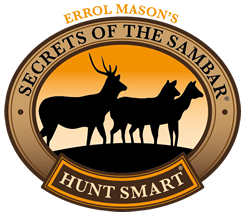 Christopher Pegg -
SOTS TRILOGY

Success Story #30
---
Hi Errol, Just wanted to give some feedback on your books. I have just taken up Sambar hunting at the silly age of 59 yrs. I found a spot not far away and as my son and I bumbled around we found a wallow and rubs and his sharp eyes saw a calf ghosting away.
I became fascinated - I bought all 3 of your books in one hit at Collins Books in Sale two weeks ago and have just got through the first. Ah! That's how they live - although they break rules when it suits.  
Yesterday was the day after some very cold weather and rain overnight. I saw the old bugger saunter along the game trail opposite me - he stops broadside 130m away and I fire. I fire twice more to finish him off. An hour later I have the cape and head, all 4 legs and back straps in the ute. I am knackered but very happy. He is an old codger, scars and hair missing. He goes 25" and he will be on the wall.
I had no hope of getting this done without the learnings of your book so thanks mate - awesome work.
Regards, Christopher Pegg