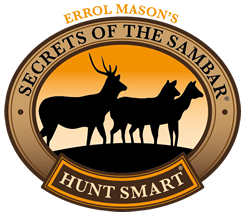 Joe Mangan -
SOTS TRILOGY

Success Story #28
---
Hi Errol, My name is Joe Mangan. You kindly signed Secrets of the Sambar volumes 1, 2 and 3 for my 30th birthday last December. My sister Anna, really treated me that year and I have enjoyed reading them since!
Last November was my first trip into the Alpine National Park where we did a week's hunting. Being our first trip, we didn't expect to see much, just hoped to build some knowledge of what these new deer had to offer.
We ended up seeing numerous deer and both shot a stag each which was both unexpected and very rewarding. I have attached a few photos of our deer.
I am heading back this coming November we are planning to spend 7 days backpack hunting around the Howitt Plains. I have been studying your chapter 'Hunting the Sub alpine' in SOTS Vol 2 in preparation for our hunt. Can't wait!
Thank you again for taking the time to write in my books. I will no doubt continue to enjoy them for many years to come.
Kind Regards,
Joe Mangan, Hobart Tasmania