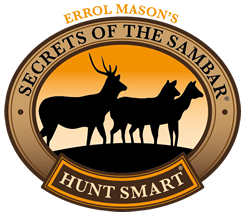 John-Luke Shelley -
SOTS TRILOGY

Success Story #16
---
Hi Errol, All I have is thank you, thank you, thank you. I purchased Volume 1 of Secrets of the Sambar and since reading it around 5 times over I headed up to the High Country. On the first morning I was able to observe a 18 inch stag, hind & her fawn as they feed on a cold wet morning. I spooked the hind and it was amazing how long I had to stay in the same position before she let her guard down. I suspect it was around six to eight minutes.
That afternoon I headed to a dry north facing slope when I found myself in a "zone of silence" and put up 3 hinds that I had stalked within 15m of while glassing.
The following morning I stalked down a wet face and glassed a dry face in the hope that I would spot a 30+ inch stag I knew was in the area. It was a very cold night and even colder morning and I knew from my own knowledge, and of course from you, that the deer would be heading for seamy open canopy for the first rays of sun and like clock I spotted a 30+ inch stag in velvet. It was the one I have been after for a year now. I decided straight away not to take him so I watched him feed his way up higher to the sun and disappear.
What an amazing experience it truly was.
The funny thing is that when I turned around to quietly sneak back out the way I came I spooked a 25 inch stag in hard antler from directly above me. My thoughts are that he came up the opposite spur which eventually joins the spur that I walked up and meets at a dome at the top.
What a fantastic morning that was and I feel so humbled to have witnessed those beautiful stags. On the last day I went up to a very thick covered tea tree hill that has an open top which has a 360 view of all the neighbouring mountains. From previous recon work I found a seamy open north facing slope which I thought would be great to glass because it's around 800m from the river and the farmland that surrounds the river is full of clover. The face I was glassing had lots of openings on it which allowed the sun to shine through. I took my time glassing it with the aid of a fence post for stability and BANG… there he was - a nice big bodied stag right up near the top. He had just stood up and was making his way to some shade to cool down. I have never been so lucky to spot so many stags in my life and I put it all down to you Errol.
My birthday is on June 27th and my family asked me what I would like, and I said volume 2 & 3 of "Secrets of Sambar" so I think volume 2 has been ordered and volume 3 will be ordered shortly.
John-Luke Shelley