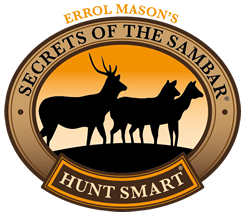 Mark Rhode -
FULLY GUIDED

Success Story #24
---
DATE: August 2005
Forest – thick but face to face possible.
Stag unaware of our presence.
Standing 200 yards away.
Collapsed at shot then bolted down steep face.
Errol tracked it for 600 yards before Mark killed it - 338 Win Mag.
See SOTS Vol 3 for details.
Knowing the correct overlays to apply in the prevailing conditions was the key to Mark's Success.
See the 464 page Hunt Smart System book which lists and describes in detail the Overlays which you should apply to Pinpoint where deer of any species are most likely to be in the prevailing conditions.
Mark Rhode Mildura Vic