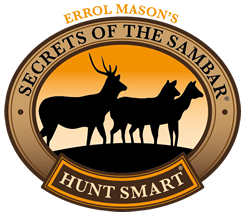 Peter Blank -
IN-CLOSE FULLY GUIDED

Success Story #18
---
Great guide, great country, great food and a Sambar stag at the end.
DATE: 5th May 2002
Forest – extremely thick – face to face impossible.
Peter Blank took this old stag.
Stag totally unaware of our presence.
Standing 120 yards away.
Instant one shot kill - 30-06.
Taken first evening of Peter's 4 day hunt.
Peter's First Ever Sambar Hunt.
See SOTS Vol 1 & Vol 3 for details .
See SOTS Vol 1 for Aerial Photo showing where stag taken.
Knowing the correct overlays to apply in the prevailing conditions was the key to Peter's Success.
See the 464 page Hunt Smart System book which lists and describes in detail the Overlays which you should apply to Pinpoint where deer of any species are most likely to be in the prevailing conditions.
Soon after this hunt Peter applied what he had learnt to take a 28 x 28 inch stag. See SOTS Vol. 3 for overlays and tactics used.
Peter Blank, Toowoomba QLD