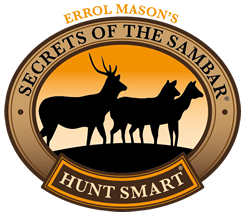 Secrets of the Sambar
Volume 1
---
THE Definitive Guide to Sambar
Biology, Ecology, Behaviour & Hunting Strategies
Volume 1 is Unavailable - Out of Print
---
Already people who missed out on obtaining a copy of this Classic are asking if we will reprint it. If you missed out and would like a copy please email us.
---
Due to great demand we have revised, updated and redesigned Secrets of the Sambar Volume 1 the first book in our trilogy (Hard cover - A4 format - 256 pp).
Contents
Why Sambar are Revered
Understanding Sambar Behaviour
Australia's Top 4 Stags and How They Were Taken
Antler Comparison for Ceylonese, Malayan, Indian and Victorian Sambar
Antler Development
Antler Casting
Aiming Points and How Bullets Kill
Cartridges & Projectiles
Rifles and Scopes
After The Shot
Binoculars - How to Choose the Right binocular for you.
Stalking tips
Tracking & Interpreting Sign
Hunting From Face to Face
Farm Fringe Tactics
The Stormy Weather Stag
Response to Cattle, Sheep and Horses
Description, Weights and Identification
Social Behaviour
Signposting and its relevance to hunting
Response to Weather
Equipment - Clothing, Daypacks, GPS, etc
Purchase Options
*Postage within Australia and GST are included in the indicated price. If you require postage to a different country please contact us and we will quote you postage.
ONLINE - You can pay with Credit Card online. Click the add to cart button to pay via credit card (Mastercard or VISA).
OFFLINE - You can pay via Direct Deposit (bank transfer) or send a Cheque or Australia Post Money Order. Note: Direct Deposit is our preferred payment method and helps us to keep costs down. Click the add to cart button and select 'Offline Payment' at the checkout and you will be able to choose 'Direct Deposit' or 'Cheque/Money Order'.
NON-SPECIFIED AMOUNT PAYMENTS - You can make a payment for a non-specified amount here - Click to make a non-specified amount payment